Vitsebsk Activist: Fiadynich's Case Is Made Up Of Nothing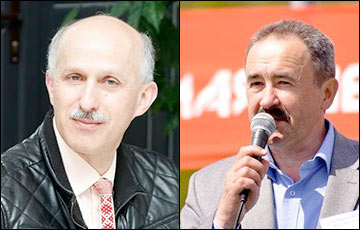 Members of the Vitsebsk branch of the independent trade union expressed their solidarity with the leaders.
On July 9, a meeting of the members of the local branch of the REP trade union took place in Vitsebsk. There were more than a dozen activists of the organization led by Heorhi Razumau, the head of the branch. The Vitebsk trade union organization lost office last year, so they met at "neutral territory" - in a cafe, writes vitebskspring.org.
During the meeting, the activists discussed the current issues of the union, which in recent years are not going well: the authorities are constantly put pressure on the union and its members. Many of them had been questioned in the framework of the so-called trade unions case.
The criminal case against chairman of the REP Henadz Fiadynich and chief accountant Ihar Komlik was initiated in August 2017. The trade union leaders have been charged under Part 2 of Article 243 of the Criminal Code (tax evasion on a particularly large scale). They face imprisonment for up to 7 years. On June 18 the criminal case was sent to the Savetski district court of Minsk.
Members of the Vitsebsk branch expressed their solidarity with the accused and declared their support. They are sure that the criminal case is purely political and fabricated due to the trade union's active struggle for workers' rights.
"The whole thing is made up of nothing - said Heorgi Razumau. - However, nobody knows what our "fairest" court would say.
Activists also discussed the new decree on the so-called parasites. In accordance with this act, special committees are set in the regions, that will draw up lists of "parasites" and then determine who from this list should be freed from payment for housing and utility services at full tariffs, and who should be sent to detox centers, and who, on the contrary, should be given an opportunity to work.
Activists decided how to help the people who fall under the decree. So, HR defender Pavel Levinau suggested that if the representatives of the independent trade unions, human rights defenders and social activists are not included in the commission, it is necessary to keep watch at the doors of these commissions and to render all assistance to the people that come out of them. And he added: "The decree against which everyone protested here and walked through the city and across the country, proved to be much softer than the one that the authorities came up with today. Because now they can lock a person in a detox center without a trial, or force to pay a higher communal tariff."