Novaya Gazeta: "Hail to the Nation, No Integration!"
23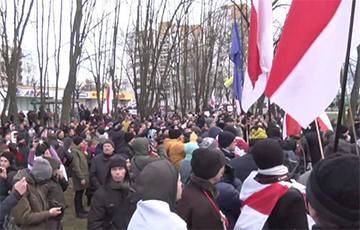 Sunday is a great day to walk around Minsk.
Saturday, December 7, nothing new and unpredictable happened during the meeting of Putin and Lukashenka, staff reporter of Novaya Gazeta in Belarus, Iryna Khalip, writes.
The negotiations lasted for five hours and brought no results. However, the only surprise is no mutual statements with the vows of friendship and promises of eternal alliance, which are common for such meetings. After five hours of negotiations Lukashenka boarded the plane and flew to Minsk. He did not appear in the press, did not shake hands or kiss the diaphragm.
During the protocol shooting before negotiations began, Lukashenka was much more talkative and even eloquent: "A lot has been done for these 20 years. This is known. There are many things to do. We do not hide it. You have noticed that our governments have seriously analyzed the agreement, discussed what can be done, what we can't do today to avoid unnecessary work. We have repeatedly addressed this issue and adjusted the actions of our groups to analyze and develop some plans for further integration".
I talked much but nothing specific.
However, he formulated the agenda quite clearly. He said that the only request he made was equal conditions for economic entities in Belarus and Russia: "We do not ask for anything, we do not insist on anything. We agreed long ago, developing our agreement: people and economic entities should have equal conditions for life and work. Equal conditions is all we need. We do not ask, as some say, for cheap gas or oil. We are ready to buy gas at $200 and oil at more than $63 per barrel. The main thing is equal conditions. If our enterprises buy at $200, it means that competing enterprises should have the same price. Otherwise, the grounds for our relations will not be set. As a PhD in Economics, you understand it as well. This is the only problem our governments are working on. We gathered to solve these issues".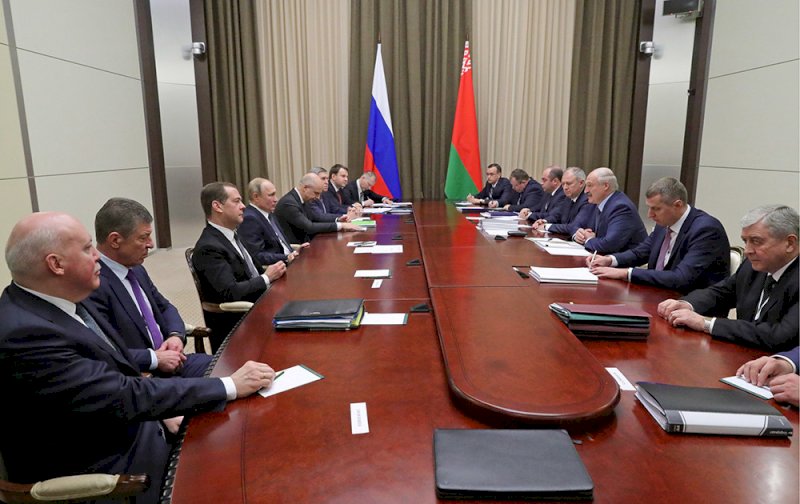 But the issues were not solved. Five hours of negotiations brought nothing but an exchange of gifts. Putin gave Lukashenka a samovar, while Lukashenka gave Putin a food set with candies, cheese and high-fat bacon. They were hardly satisfied with each other, judging by the official silence. However, they agreed to meet on December 20 in St. Petersburg. But this is not a new meeting to continue negotiations, but a planned one within the framework of the EEU summit.
The only official who commented on the results of the negotiations was Maxim Oreshkin, the head of the Russian Ministry of Economic Development: "Today was a busy day. In fact, we have worked out a number of issues in agriculture, communications, customs and oil market regulation. We have achieved very serious progress, even on the issue of oil and gas".
Probably, the meeting was so fruitful that there was no need to perform before the press.
"We are so close that no words are needed".
December 8, Putin and Lukashenka exchanged congratulations on the 20th anniversary of the signing of the Union Treaty. A new rally for the independence of Belarus began in Minsk. Sunday is a great day to walk around the city. Around two thousand demonstrators gathered on Kastrychnitskaya Square with flags and posters and headed first to Pobeda Square, and then to the Russian Embassy, chanting "Hail to the Nation, no integration!" and "Long Live Belarus". One of the organizers of the action, Pavel Seviarynets, called December 8 "a positive day of the protest". Because December 8 is the day of signing the Union Treaty for Lukashenka and Putin. For people, it is the day of signing Belovezha Accords, which finally destroyed the Soviet Union and gave us independence.