We Will Live In Free European Belarus
20
21.03.2019, 19:15

105,182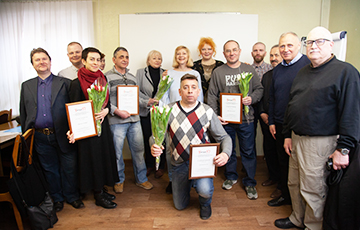 The National Award of Charter'97 for the protection of human rights has been presented today in Minsk. 
This year's laureates of the National Award for the Protection of Human Rights named after Viktar Ivashkevich are Brest bloggers, leaders of protests against the construction of the battery plant Aliaksandr Kabanau and Siarhei Piatrukhin, mother of the deceased conscript soldier Aliaksandr Korzhych Sviatlana Korzhych, activist of the European Belarus civil campaign Leanid Kulakou, and vlogger Stsiapan Sviatlou, also known as NEXTA.
The Charter'97 award has been presented for the 20th time this year.
Opening the ceremony, coordinator of the European Belarus civil campaign Yauhen Afnahel greeted everyone with the upcoming holiday of the Freedom Day:
- In just several days we will recall the heroes, who, under the hardest conditions, restored the independence of our country 101 years ago. Today we are awarding the heroes who struggle for freedom, for their rights, defending the dignity of the nation at our times. I am convinced that we future generations will recall these brave and self-sacrificing people just like we recall our famous predecessors.
Today we are handing the Charter'97 National Award for the protection of human rights named after Viktar Ivashkevich. Until 2010, this ceremony took place in Minsk. Subsequently, due to the persecution by the authorities, the site's editors were forced to move to Warsaw. In recent years, the award was presented there. Today the situation is such that some of the award winners are banned from leaving Belarus. At the same time, Editor-in-Chief of Charter'97 Natallia Radzina, and some of the employees are not able to return to the country due to the threat of arrest.
Therefore, we, community activists, former laureates, responded to the plea of the website editors and helped in organizing and holding today's event. Special thanks to the REP Trade Union and its leader Henadz Fiadynich for the opportunity to meet here in this room.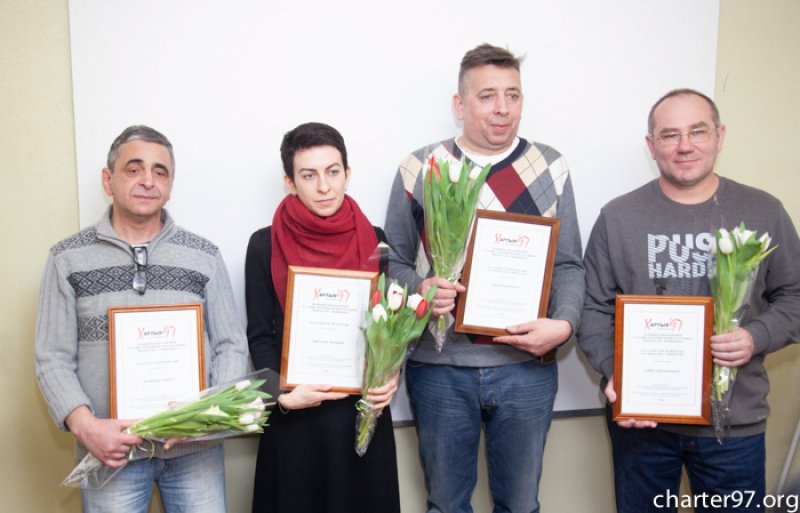 Brest bloggers Aliaksandr Kabanau and Siarhei Piatrukhin received the award from the hands of film director, civil activist Volha Nikalaichyk.
- This is a great honour to represent here the most brave, vigilant, and honest men on 2018. It makes me happy that the spirit of freedom has not faded away in Belarus, because it is flamed up by such people – educated, interesting, intelligent. Aliaksandr kabanau and Siarhei Piatrukhin are stars that appeared in our skies not very long ago. However, already today they have become the leaders of the protests taking place in Brest.
I am so proud that we have such defenders, and I wish them creative success. I think that exactly thanks to such people as Aliaksandr Kabanau and Siarhei Piatrukhin, and thousands of Belarusians who are fighting against injustice, we will be able to defeat the dictatorship maybe in the upcoming years, and start building our free European Belarus, - Volha Nikalaichyk said.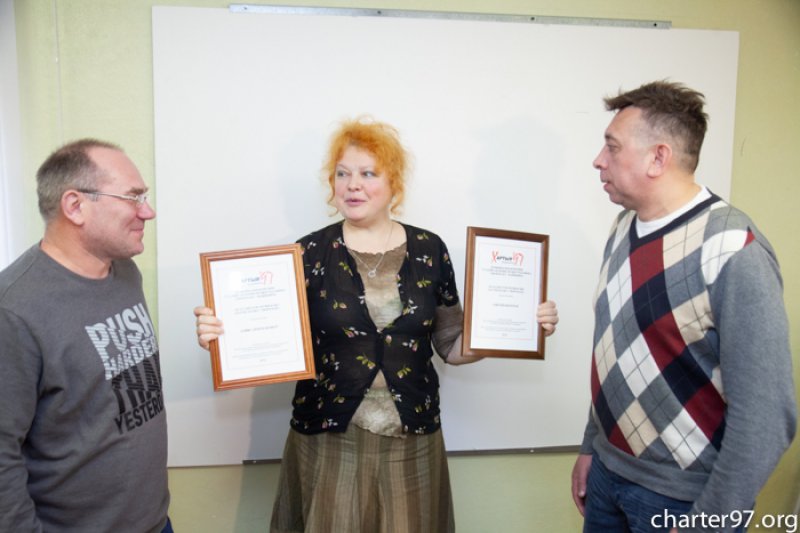 Receiving the award, Aliaksandr Kabanau said:
- In my past life, I was an ordinary person, I didn't pay much attention to the events around me. Then I discovered Charter97.org. And the same thing happened to me as to many of his other readers before. I read the Charter and gradually understood that it wasn't just me who noticed that there was something wrong with our country. I read about people, some of whom are now here; about events that could not be known from official media. And, of course, then, many years ago, I could not even suspect that, thanks to this, I would become an active participant in public life and that once the Charter'97 website would honour me with its award.
This is a very important reward both for me and for all people who struggle and are subjected to repression. It is very pleasant that our democratic community and the most popular independent site value our work.
Siarhei Piatrukhin thanked the editorial staff of Charter-97 for the award:
- It is very nice that we received this award, that our work was valued in this way. It always makes me happy when my work is nopticed and appreciated. It gives inspiration and energy. Many thanks to the website Charter97.org both for their work, and for this award. We will continue the struggle for change and will lead it until our country becomes normal.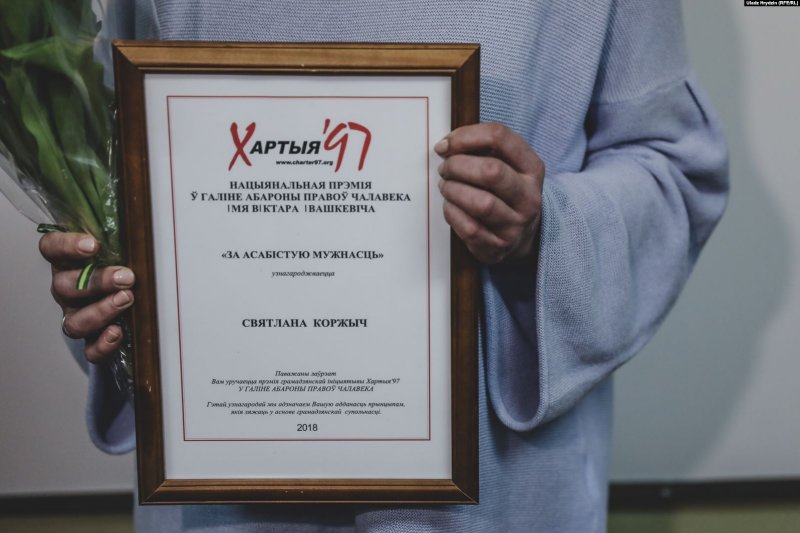 Sviatlana Korzhych couldn't make it to Minsk, as she had to be at work. Close friend of the Korzhych family Hanna Badziaka received the award for her, having promised to pass it to the laureate soon. Handing the award, journalist Iryna Khalip said:
- There is a common opinion that the most horrible thing for a mother is to outlive her child. However, it's as horrid when a mother cannot yield to her grief, sit peacefully and mourn over her child, but is forced to fight with the powerful state machine in order to achieve justice, in order to ask questions and get answers to them, to bring the guilty to responsibility. The bravery of Sviatlana Korzhych is endless. I watched the events with sympathy and admiration for her. I think, thanks to such people, many light-hearted Belarusians who sincerely believe they live in a stable country, will finally realize that today's Belarusian army is not some anecdotic place where they tell jokes about warrants, and paint grass in view of the generals' arrivals, but horrible, fearful, gestapo place from which we should save our children. I hope many mothers will think before giving their sons to the current army. And this will certainly be the merit of Sviatlana Korzhych.
I have a son, and I shiver at the thought that he will enter the draft age in a few years. I hope that, thanks to Sviatlana Korzhych, it will become clear that conscripts are the more vulnerable part of the Belarusian society than, for instance, opposition activists. A soldier;'s life, and we know it because of Sviatlana Korzhych, is worth 15 rubles a day, and it remains out of focus of the society. Only we can protect the belarusian soldiers, who are being killed although there's no war.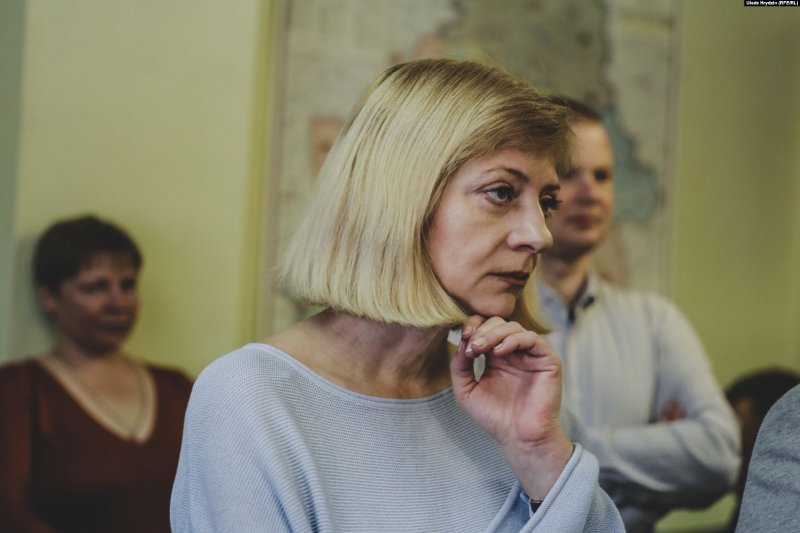 Hanna Badziaka promised to pass the award to Sviatlana Korzhych soon, and conveyed her words of gratitude:
- Sviatlana is very sorry that she could not be with us now. She really wanted to come to Minsk. She asked to tell that now the support of the civil society, the support of Charter'97 is very important for her. Sviatlana continues to fight to achieve the truth about the fate of her son. We know that what happened with Aliaksandr Korzhych continues to occur in the Belarusian army. And I want to say that Sviatlana is fighting not only for justice for her son, but also to unroot the system of violence and corruption that has developed in the Belarusian army. Once again, I want to convey to the editorial staff of the Charter'97, to all who gathered here toda, her words of gratitude for this award.
Leanid Kulakou received the award from one of the leaders of the REP Trade Union, Henadz Fiadynich.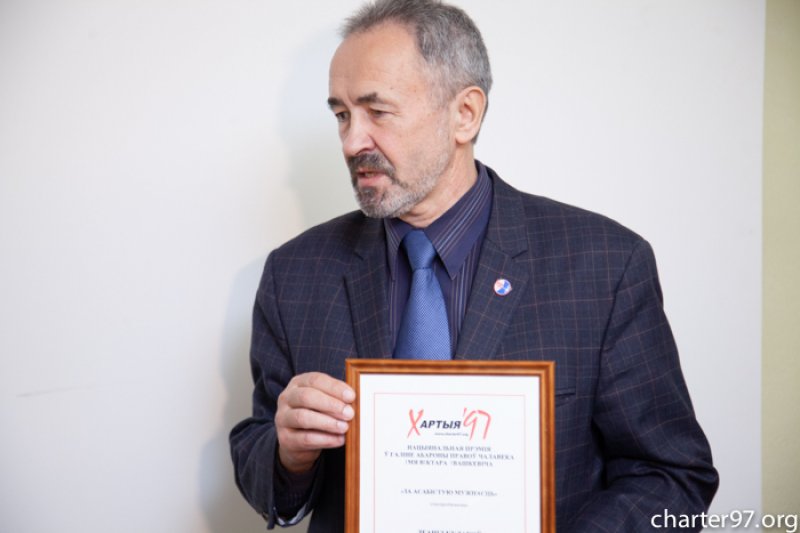 - I myself was the winner of the Charter award in 2012 together with Stanislau Shushkevich and Natallia, the wife of Ales Bialiatski, who was behind bars at that time and could not attend the awarding ceremony. I want to say a few words about Leanid Kulakou. This award requires much, it's not just a paper in a beautiful frame. It indicates that you have the high honor to be called a real citizen of the Republic of Belarus. There are many people in our country, but so far not so many citizens. Citizens are those who are ready to defend independence - not the one that the authorities sometimes recall, but the true one.
True independence means, first of all, human rights. A government that people respect because they elected it. The democratic European principles. Nobody gives rights just like this, you have to fight for them, the way Leanid does. Thank you for your courage, for your dedication, for your participation in the activities of trade unions and the European Belarus. Thank you for Kurapaty.
It is very important for the country to know what you are doing, to know about your struggle, about your actions. That in Belarus there were hundreds, thousands of Kulakous. And then, I believe, the victory will be ours! - said Henadz Fiadynich.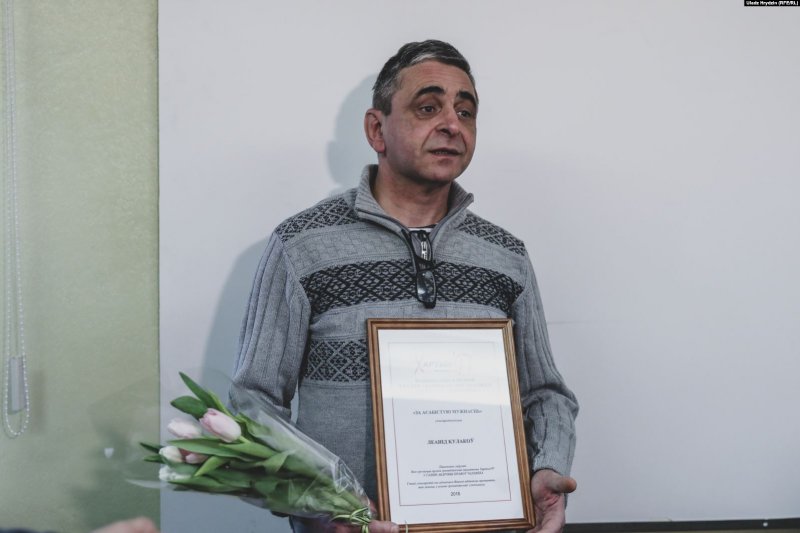 Leanid Kulakou called on the participants for solidarity with independent journalists and with the website Charter97.org:
- I am very grateful to Charter'97 and, first of all, to its Editor-in-Chief Natallia Radzina, for this award, and, of course, first of all, for the tremendous work that they do, for protecting our independence freedom by telling Belarusians what is happening in the country. I always speak to all my friends about the Charter'97, about other independent media that write the truth about our lives. Now, when the website remains in a difficult situation, it needs our solidarity and support more than ever.
Receiving this award was a surprise for me, because I just did and continue to do what I should, I can. And, taking this opportunity, I want to appeal to my compatriots, to all Belarusians. Our future depends only on us. Read Charter, learn the truth about what is happening in Belarus. Learn how to protect your rights. And then very soon we will live in a completely different country.
The national award for the protection of human rights named after Viktar Ivashkevich will be presented to one more laureate - blogger Stsiapan Sviatlou - in Warsaw soon.