Sudalenka: What We See In Homel Region Has No Reasonable Explanation
6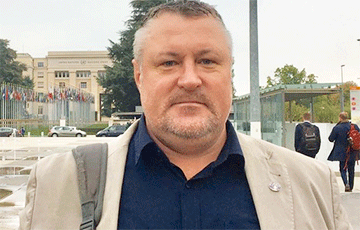 The cases of expulsion of foreigners from Belarus have become more frequent recently.
The other day it became known that 65-year-old Ukrainian citizen Volodymyr Landar is being deported from Homel. It is worth noting that the man does not conflict with anyone, has never been brought to administrative responsibility, but the authorities have found something to complain about.
The website Charter97.org asked for a comment a professional lawyer, a well-known legal labor inspector of the independent trade union of the radioelectronic industry workers (REP) in the Homel region Leanid Sudalenka, with regard to the fact that lately more and more often foreigners are expelled from Belarus under formal reasons.
- Indeed, recently there have been frequent cases of expulsion and deportation of foreigners from Belarus. If the high-profile cases with human rights activist Alena Tankachova or the press secretary of the United Civil Party Hanna Krasulina were purely political in nature, then what we are witnessing in the Homel region has no reasonable explanation.
They are expelled for driving without a flicker, for talking on a mobile phone while driving, for speeding and for appearing in the street as they say "tipsy". They say that no matter if the law is bad or good - everyone must fulfill it! I believe that the law must first be proportionate to the deed. If the law were as harsh to Belarusians as it is to foreigners, then half the country would have to be deported for appearing in a public place while intoxicated.
I have said this before and I repeat once again - if the law interferes with life, it is necessary to change it, and not to destroy people's fates. Well, who will benefit from the expulsion of a petty offender? The state loses, because the expelled person often has loans, families are left without a breadwinner, and children without fathers. Children risk falling into a socially dangerous situation, as they can apply to them Decree #18.
It is appropriate to recall here also the three suicides recently committed by the deported in the region. Deportation or expulsion was an insurmountable obstacle for men; they alone could not cope with this psychological problem.
A few days ago I consulted a 65-year-old citizen of Ukraine, who was deported for 5 years from his country for living here without registration. In other words, they did not leave the elderly man the slightest chance of correction. And he has an adult son here, who is a Belarusian citizen ...