Why Belarusians Feel This Way About Lukashenka
16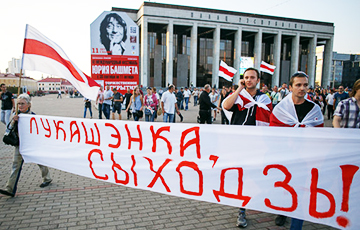 The dictator acknowledged that "the people are not exactly dying of the love for us."
The country's leadership knows that it is losing public confidence, writes "Tomorrow of your country".
"I understand, and you understand that are not exactly dying of the love for us," Aliaksandr Lukashenka admitted at a meeting with the new leaders of the local authorities.
Why do Belarusians feel this way about Lukashenka?
He is making a regional kolkhoz out of Belarus
Andrei Stryzhak, an activist of the electronic industry trade union, believes that managers are sitting in an "ivory tower".
At the same time, the stick makes the economy work no longer.
- We are a part of the global economy and global trends. Obviously, they
reflect on us. Fencing off the domestic economy thus making it a regional collective farm will not work. To develop, you need to listen to the opinion of experts, - says Andrei Stryzhak.
Where are the real elections?
The first and most important requirement, according to Chairman of the Human Rights Center Viasna Ales Bialiatski, is the holding of free and fair elections. For decades people have observed irremovability and stagnation of power, which is why citizens have practically no confidence in it.
But the government is still not ready for change.
− This year Belarus holds the parliamentary elections, followed by the presidential elections next year. However, the executive authorities, which falsified the elections before, do not intend to change anything in the practice of conducting electoral campaigns, or electoral legislation, - the human rights defender says.
− History confirmed many times that such stagnation cannot last forever, and serious changes happen sooner or later, - he says.
Lawlessness in the law enforcement and judicial systems
− The executive power has taken over both the legislative power and justice. That is why we have neither normal justice, nor satisfactory legislative power. You cannot hide it - people see everything. They keep silence so far, but the time will come when they speak up, - Ales Bialiatski believes.
Revenue drop
"When the oil offshore acted, Lukashenka raised wages," political commentator Aliaksandr Klaskouski notes. "But for some reason this stopped, and the authorities have no choice but to correct their image with PR efforts."
"When Lukashenka says that people don't die of love, perhaps he indirectly reveals that he sees indicators of closed sociological surveys that do not please him, and that his rating is by no means brilliant," the political scientist thinks.
Still, the closer to the elections, the more tense the situation will be, because the government is trying to solve two mutually exclusive tasks: on the one hand, it wants to seem "lovey dovey", on the other - to keep "stability" at all costs and prevent social and political turbulence. So the wonders of liberalization, the "softness" of the power structures and officials in relation to people cannot be expected, Aliaksandr Klaskouski believes.