Lukashenka Has Two Ways to Follow, Economist Says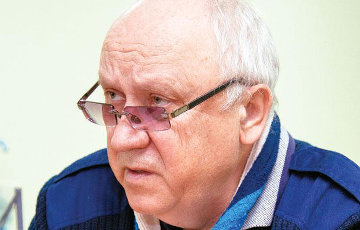 The Russian Military Intelligence Service (MIS) is working properly in the ruler's entourage.
The Ministry of Finance of Belarus informs about problems with the attraction of the Russian state loan of $600 million. According to Minister Maksim Yermalovich, "Belarus has met all requirements".
Meanwhile, the budget of Belarus has been adjusted as if the fact that the money was received. In fact, it has already been distributed and should have been used to repay debts.
What consequences may it bear? What will the authorities do in this situation? Leanid Zaika, economist, head of the Strategy analytical centre, answers questions of Charter97.org.
- Let's start with why Russia refused a loan.
- The fact is that a minister is an empty place in Belarus. Let his name be John Maynard Keynes, Yermalovich or even Milton Friedman. Any minister in Belarus is an empty place, and one shouldn't take their statements seriously. They told me: "What can I do? Who am I? No one."
If Lukashenka had behaved differently, ministers would have been independent and could have said something. Therefore, I never take statements of ministers seriously, including those of the Prime Minister, given his feebleness.
Lukashenka got no money. And now it will become clear why.
The Kremlin says they'll give him the money, $600 million. Putin personally said this. It was a couple of months ago.
Then suddenly Lukashenka decided to play independent and said that the pipeline needed repairs. It should be blocked, and the Russian oil will not reach Europe.
It began when "Belarusian" apples and pears were not allowed to the country on the Russian border. In fact, they were Polish apples, but our authorities decided to fool Russians and make them Belarusian.
By the way, after that case with apples and pears, I visited the largest retail stores and asked if there were such fruits of domestic production on sale. They told that? Belarusian pears were on sale only in autumn.
But let's turn to the events. After the story with pears Lukashenka suddenly says out of the blue that the pipeline needs urgent repairs. Before that Putin promised 600 millions of "brotherly money".
A few days after Lukashenka's statement, chlorinated liquid got into the pipeline and it failed. Someone believes that it is a coincidence. But I don't believe in such coincidences. Even the Belarusian refinery in Mozyr needs some repair works.
That is, you, Lukashenka, says that you would pull the plug on the oil - and we, the Kremlin, destroyed your refinery.
After that, Belneftekhim's estimated losses equaled $150 million and demanded compensation from Russia.
Okay, guys, the damage is inflicted, but then you won't get a loan. After all, the Kremlin believes that the Belarusian authorities themselves have caused damage by their idiocy. Statements of Yermalovich, Shmiranovich, Vladimir Ilyich are mere things. The Kremlin gives, the Kremlin takes it away. Lukashenka has long nailed himself.
And in order to "fulfil terms of the agreement" and expect a contract with the other party, one should be a gentleman, who is taken seriously. And when they say, "Hey, you, take your Polish apples", and you say back "I'm going to pull the plug on oil", the response is like this with refineries.
That's it. Russian special forces and the MIS work properly in Lukashenka's entourage.
- How can the authorities get the missing 600 million to pay off debts?
- Well, it is necessary to repay $3.6 billion - one sixth of it is not critical.
I think that now they will wonder why the nominal salary of state employees has been raised.
Last year, Lukashenka went to the Kremlin and asked Putin to give him money. And then, like a mockery, he ordered to increase budget expenditures. It is clear that next time he is offered to eat and to drink less.
- Does this mean that state employees hear the same and social expenditures will be cut?
- Yes, wages of state employees will be subject to cuts. There are two ways: either direct reduction of wages or the inflation feeding and reduction of incomes of the population with the help of "inflation tax".
$600 million is not a big amount, which can be raised on state employees.
- Public debt payments are made in foreign currency. The main sources are the sale of Russian oil products and Belarusian goods in Russia. Both positions are suffering from great challenges. What will happen to the foreign currency cushion of the authorities?
- Lukashenka's currency "cushion" will be so thin that next year he may agree to a single currency with Russia. And the graver his financial problems are, the sooner he will accept a single currency with Russia.
But still, he is playing independent. The currency to pay off the public debt will be sought in the accounts of enterprises and the population. In such amounts as $600 million, the authorities believe it acceptable to seize foreign currency.
These are already technical operations. Large audience and journalists will not be involved. As they say: dance your dances.
Everything depends on the financial plan of the Ministry of Finance and the government. One thing is certain: the authorities cannot afford to increase the incomes of the population now.
In this situation, tax growth is also undesirable. It will hinder the development of businesses. But they do it because they are silly.
And household incomes, pensions and other budget expenditures cannot be increased now. There are no reserves for it. And amid these problems, they hold such questionable events as the European Games. It would be better for Lukashenka to organize an interplanetary chess congress with the Martians and go there himself. He would have been more successful there.
The Belarusian authorities do not see the economic situation and cannot assess it properly. The economic situation is even stupid.
If Lukashenka thinks that Prime Minister Rumas will do something, he is wrong. Rumas won't rescue him and won't be able to do anything. He's just a military financier, and he knows how many boots he needs in his warehouse and how many bullets he needs in his guns. The rest is out of his competence.
- Economists suggest that in a situation of "separation" from Russian loans Lukashenka will try to use the financial services of China. Do you think it's possible?
- One may ask the Chinese for dollars, of course. And it is not a problem for China to give or to grant 3-5 billion dollars.
But in return, Lukashenka will have to ride a Chinese bicycle. Or Chinese music should be popular in Belarus. Or Belarusians will have to buy Chinese clothes. All Belarusians, the government will have to wear only Chinese clothes.
Lukashenka and his economy are of no interest to China. It's too small. Why should it give him $3-5 billion? What are its merits? The Chinese are very practical.
And it doesn't take many wits to beg for money. If the nomenclature can build houses and then sell them at a million euros, let them sell Drazdy. Then money may appear.