'We Won!': Hundreds of Brest Residents Participate in the March (Online, Video)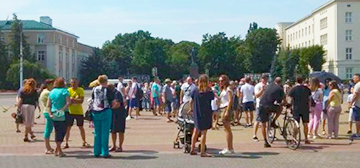 More than 300 people participated in the march.
Today Brest citizens came to the central square of the city. It is the second year when citizens of the city protest against the battery factory every Sunday.
The BNC press service made a video of the protest action.
Correspondent of Charter97.org informed that even before the rally about 150 protesters gathered on the square. The number of people is increasing.
Protest leaders in Brest, activists Aliaksandr Abliak and Zmitser Bekaliuk addressed the crowd. "We won!" the activists congratulated the citizens of Brest.
It will be recalled that yesterday it became known that the battery plant near Brest failed to pass an environmental assessment for the third time. Despite this, protesters urged each other to stay focused.
By 12.45 a.m., 300 people had already participated in the march, the correspondent of Charter97.org said. People unfurled the flag of Brest and began a march along Pushkinskaya Street. Mothers with children also participate in the march. The protesters turn on the song "Live", which became a protest anthem in Brest.
The participants of the action in Brest walked the route of parasite marches and walked along the central streets of the city. After the event, it was decided to continue the fight against the battery plant.