"Lukashenka Must Resign": First Picket To Collect Signatures Held In Vitsebsk
23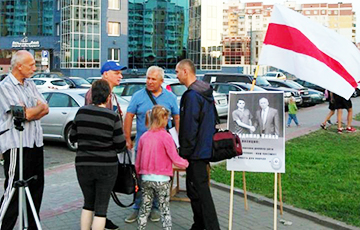 People understand that most of the problems are related to the dictator.
On September 10th, the first picket under the white-red-white flag to collect signatures took place in the center of Vitsebsk, near the Continent shopping center. Signatures were collected for nominating four Vitsebsk residents as "candidates". Several dozen people signed up within two hours, Vitsebsk Viasna reports.
The first point on the poster of Uladzimir Kiyko, who decided to participate in the "parliamentary campaign," says: "Lukashenko Must Resign!"
According to Uladzimir, people are very tired of Lukashenka's regime and understand that most of the problems are related to this person.
"Certainly, one can advocate for reducing the retirement age, abolition of the decree on "parasites", as well as raise other problems that concern people. But one should understand that as long as the current ruler is in power, it will be almost impossible to solve them," - the potential "candidate" says.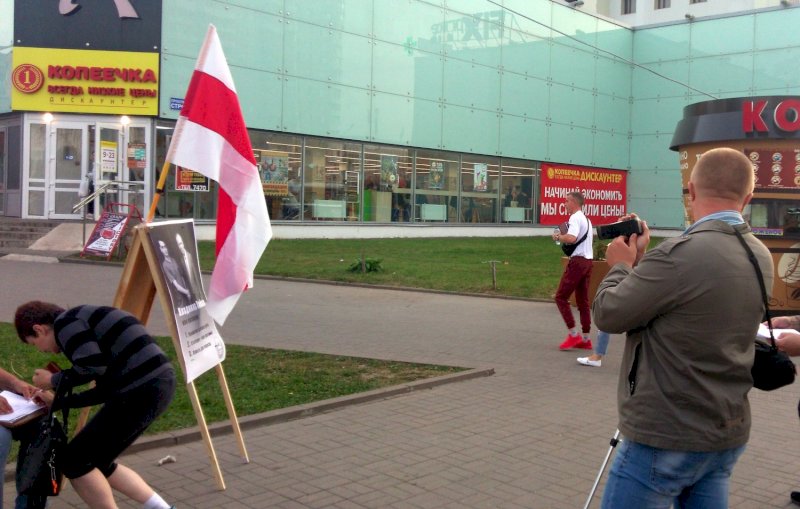 No serious incidents occurred during the picket, but three people in civilian clothes were recording it on camera. There was also a man who asked Kiyko to show his passport and ID card of the initiative group member. The signature collectors believe it was a KGB officer. He was very polite and correct. He said he wanted to sign, but after checking the documents he changed his mind and left.
The head of the Continent shopping center also came up. Introducing himself as Valiantsin Kulkou, he asked if the picket was sanctioned and said that the signature collectors were located on private territory belonging to the shopping mall. He asked to step away from the building.
"I have nothing against you, but I don't want to get a call from the KGB tomorrow asking why I let your flag be here," - Kulkou explained. Having received a polite refusal, he also left.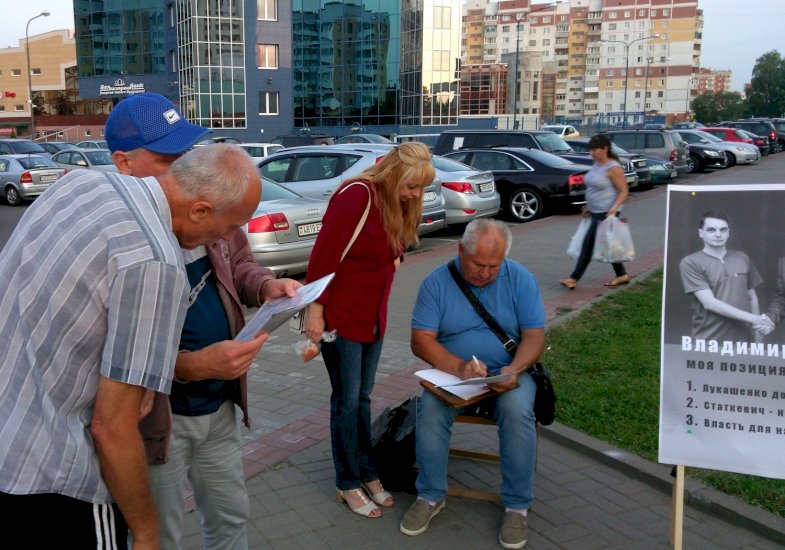 "It's written badly about Lukashenka there..."
Signatures to support three more potential "candidates" - Uladzimir Matskevich, Aleh Paulau and Sviatlana Hermanenka - were collected at the picket.
People reacted in different ways. Someone signed easily and without fear, while others said they agreed with the position of the candidate, but wouldn't sign as they were afraid that they would be fired from their jobs. Some asked not to take pictures or video of them. One young guy explained that he was signing his name because he did not want "Belarus to become a part of Russia". A lot of Vitsebsk residents were watching the picket from afar.
"What can I say here - people are scared. Today I went to the copycenter to print a poster, dropped them the file - everything was fine, they asked me to come back in half an hour. I come in 30 minutes, but they said: "No, we can't print it, because it's written badly about Lukashenka there... I made a poster in another place, but - black and white," - Uladzimir Kiyko explained.
To register as a candidate, one needs to collect at least 1000 signatures. One month is given for this. According to Kiyko, whose initiative group consists of 39 people, the pickets to collect signatures will be held daily in different parts of the city. It is planned to collect signatures by walking round the apartments of Vitsebsk residents.