How Aliyev Dumped Lukashenka With Oil
48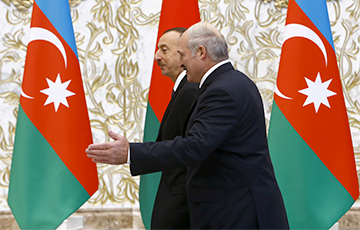 The Belarusian dictator seems to have almost no friends in the post-Soviet space.
Because of Azerbaijan, the Belarusian leader was not afraid to spoil relations with the Armenian authorities, but in a difficult situation for him, a "friend" was in no hurry to help, udf.by writes.
Aliyev's strange behavior
On the sidelines of the Davos forum, Azerbaijani leader Ilham Aliyev said that he did not know anything about the appeals from the Belarusian side regarding oil supplies, but they could be carried out by the state-owned company Socar Trading. Moreover, according to Aliyev, this did not refer to the oil from Azerbaijan.
What is strange in the words of Aliyev?
First, Belarusian officials, led by Aliaksandr Lukashenka, said they had turned to many countries, including Azerbaijan, with proposals for oil supplies. And at the state-owned company Socar, just a week ago they said that they were ready for cooperation.
So can Aliyev really not be aware of the "oil war" between Minsk and Moscow, and the corresponding appeal of the Belarusian authorities?
Secondly, Aliyev said that this is not about oil supplies from his country. It is important to understand that Socar Trading also trades oil from other countries - naturally, at world prices.
Meanwhile, in 2011, Baku delivered consignments of Azerbaijani oil to Belarus by sea - via the Odesa-Brody pipeline with access to Druzhba. True, an opaque scheme was in effect then: Minsk received oil from Azerbaijan, giving back to its state-owned company the volumes received in Venezuela.
That experiment was curtailed not only due to changes in relations between Belarus and Venezuela. For example, it turned out that the processing of Azeri Light oil at the Belarusian refineries was more expensive than the Russian Urals.
Aliyev's fresh words can be interpreted in such a way that he doesn't intend to sell his oil, on which he could offer his friend a discount.
Meanwhile, in the spring of last year, the ambassador of Azerbaijan Latif Gandilov assured that his country would be ready to help Belarus in case of its appeal on the issue of oil supplies:
"In difficult times, our peoples have always helped each other, and this unites us. We always give each other a shoulder. If necessary, Azerbaijan will honor its brotherly duty. There is no doubt that the heads of state will find a common language on this issue."
But now this promise seems to have been forgotten.
This is not the first time Aliyev dumped Lukashenka
Lukashenka began to call the President of Azerbaijan his "great friend" after one specific case. 10 years ago, the Belarusian authorities urgently needed money to pay a debt for the Russian gas. And literally within a few days they found the right amount of almost $ 200 million.
Later it turned out: Aliyev agreed to issue a loan. Subsequently, Lukashenka regularly recalled that help.
"We remember when you gave us a shoulder in difficult times, without looking back ... I am very pleased when you come, my like-minded person, my great friend, they know this in Belarus, you are a friend of the Belarusian people in general," said Lukashenka.
Then he tried several times to get Azerbaijani oil (for example, in exchange for scientific technology), but unsuccessfully.
And last summer, Aliyev did not show due respect for the Belarusian leader when at the last moment he refused to fly to the opening ceremony of the II European Games, which meant a lot to Lukashenka.
The fact that the head of Azerbaijan changed his mind became known only on the opening day of the Euro Games. Instead, he sent his daughter.
Aliyev's decision was probably somewhat offensive to Lukashenka. Moreover, before that he was not afraid to spoil relations with the leadership of Armenia, because of Alieyv being at his side.
In 2018, Belarus sold the installation of the Polonaise multiple launch rocket system to Azerbaijan. Obviously, financially, the deal was beneficial for Minsk. But the problem was that Belarus supplied weapons to the enemy of its CSTO ally.
The deal not only caused sparks in relations with the leadership of Armenia, but also affected the fact that Lukashenka's protege Stanislau Zas did not become the state secretary of the military block either at the end of 2018 or in 2019.
Baku's current position on oil supplies to Belarus can be viewed from yet another side, unpleasant for Lukashenka. Last autumn, the Kazakh authorities made it clear to Minsk that they did not intend to enter into a dispute with Russia so that it would allow the use of pipelines on its territory for oil supplies to Belarus.
Aliyev's statement again testifies to the fact that despite the pompous words, Lukashenka has almost no real friends in the post-Soviet space.