Oil and Gas Mousetrap Shuts for Lukashenka, Says Economist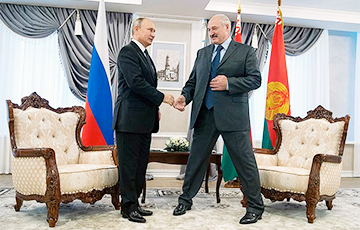 What has the Kremlin prepared for the Belarusian dictator?
Experts believe that the so-called "alternative oil," which was urgently demanded by Lukashenka, will cost Belarus too much.
Given deliveries from the terminals of the Klaipeda port, each ton of Norwegian oil will cost $130 more than the Russian one.
Due to the cessation of oil supplies from Russia at the state level since January 1, the Belarusian refineries are minimally loaded. Meanwhile, last year alone, Belarusian exports of petroleum products dropped by $1.23 billion due to the pollution of the Druzhba pipeline. This year, according to experts, losses of our economy will only grow due to the "oil war" and tax manoeuvre in Russia.
Economists predict that the growth of domestic prices for both motor fuel and the wide range of consumer goods is inevitable under such conditions. It seems that Lukashenka is also aware of this. During a business trip to Shklou on January 24, he stated that the Belarusians could "finish me off within a year". The dictator also complained that Russia had developed a tax manoeuvre to "press on him," while during the negotiations, the ally screwed him up on gas and oil issue and offered prices higher than the world' ones.
Is expensive oil capable of ruining Lukashenka's economic "model"? Barys Zheliba, Doctor of Economics, answers the questions of Charter97.org.
- Norwegian oil turned out to be much more expensive than Russian. Experts argue that the same applies to any other "alternative" supplies. Is it true?
- Yes, the alternative oil will cost much more for Lukashenka. Loading into tankers, transhipment in Klaipeda, then the delivery by rail will cost $500 per ton. Meanwhile, Russia sells oil at about $400 per ton. That means the authorities will lose at least $100 per ton of oil.
And if one multiplies that by the oil that is needed (the authorities want 24 million tons a year), it will cost billions of dollars.
This is a bad movie for Lukashenka. It was needed to diversify the sources of oil supply 10 years ago. Second, it was necessary to adjust our refineries to world prices.
In today's situation, this less profitable logistics will greatly complicate the life of the authorities and refineries, but we cannot depend 100% on oil and gas supplies from Russia alone.
Of course, no one intends to fully replace Russia - from the Baltic to the Black Sea. I think that the task will be to get half of the oil not from Russia. Secondly, the authorities may raise fuel prices on the domestic market. For the refineries to survive, they will have to significantly raise prices for motor fuel in the country. Not for a penny a week, but 2-3 times more.
I assume that logic will be as follows: motorists are not poor, they have a car, and if they want, they will buy gasoline at new prices. They say that gasoline is one of the cheapest in Europe.
On the other hand, it is no longer possible to accustom refineries, enterprises and motorists to low fuel prices. We will have to leave it away.
- How much can the Belarusian economy lose if the price of raw materials makes the export of oil products unprofitable?
- You see, it is impossible to give up Russian oil completely today.
And as far as I know, the issue is that our refineries do not want to pay the so-called bonus, $10 for each ton. I believe that this is not much.
I would recommend to agree to Russian conditions and not to run head against a wall.
As for today's losses: there will be losses of billions of dollars.
- Will it cause higher fuel prices in the domestic market? What other consequences will this situation bear on the economy?
- It will be negative. If motorists, individuals somehow make through it, gasoline will also go up in price for legal entities, enterprises that use oil products.
In this regard, energy resources take 5-7% for our enterprises, this price increase can be bearable, it is cushioned. The companies that consume much motor fuel - carriers and so on - will suffer the most.
But our people and the economy should have to be accustomed to the market oil prices. We should have earlier got off the Russian oil and gas needle. Otherwise, Belarus will never get out of debt and will always be on the verge of losing its sovereignty.
We are still on the brink because Putin's strategy remains the same. He is not going to resign.
- During his visit to the Shklou district, Lukashenka said that Russia had invented a tax manoeuvre to "press" and the ally screwed him up on gas and oil. How would you comment on these statements?
- Did he say he was screwed up? Hmm, he likes such strong words. It can certainly be interpreted. What did he mean by screwing up? Let's remember how Medvedev, Russia's prime minister, made it clear in December and then Putin that cheap oil and gas at Smolensk region prices, would cost sovereignty.
Regarding screwing up, there might be promises given to Lukashenka at non-public talks. The only free cheese is in the mousetrap. And now this oil and gas mousetrap is shut down for Lukashenka.
- How do you think this "oil and gas war" will end? Will Russia interfere in the presidential elections in Belarus?
- Yes, the integration pressure on Lukashenka will continue. It is likely to even intensify.
Anyway, the parties will have to somehow agree on oil and gas prices in the next month. How can they agree? If I were our management, I would accept the Russian conditions on oil prices, this $10 bonus per ton. Because the strategy on the seizure of Belarus will not change until Putin is in power in Russia.