Zmitser Bandarenka: Fate Of Belarus Will Decided In Few Months
55
ZMITSER BANDARENKA
28.01.2020, 14:27

44,320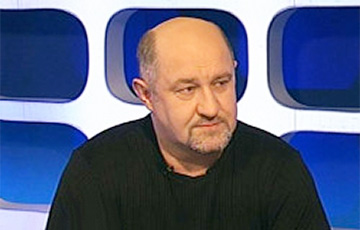 There is a huge anxiety and a huge chance for all the Belarusians.
This was stated by coordinator of the European Belarus civil campaign Zmitser Bandarenka in an interview with Charter97.org, commenting on the situation before the presidential election in connection with the "primaries" announced yesterday by several democratic parties to nominate a "common candidate".
- Yesterday it became known that Pavel Seviarynets won the BCD primaries, and BPF party chairman Ryhor Kastusiou proposed to make him a common candidate of the opposition in the presidential elections of 2020. How do you assess this initiative?
- I would like to say that it's better late than never and it's good that the Belarusian Christian Democracy and other democratic parties of Belarus have moved at least somehow.
As last spring we invited Pavel Seviarynets to Warsaw. We wanted to know about his plans and his assessment of the situation in Belarus and, frankly speaking, we expected a serious conversation. But we didn't have a serious conversation - Pavel left quickly and we didn't see much activity over the last year, except for the rallies in support of Belarus' independence in December last year.
Probably, it is an internal affair of those parties which decided to hold the primaries, but I would not have any grand aspirations associated with this event, because it is enough to look at what these parties have been doing for the last 10 years - for example, how they participated in the campaign for the so-called "parliamentary elections" in 2019, when it was obvious that the campaign of the structures of the Belarusian National Congress and European Belarus was much more noticeable than that of all these parties which decided to hold the primaries.
- What is the difference between the situation in Belarus now and the situation on the eve of the last presidential "elections"?
- That's a very good question. Because, in my opinion, the Belarusians now have a chance to change the power and change their future. Lukashenka's staying in power for another five years may lead to the loss of the Belarusian statehood and put the existence of Belarusians as a nation into question - this is on the one hand.
On the other hand, now the whole Belarusian society is united in its attitude to the Belarusian dictator: more than 90% do not welcome him, hate him and want his immediate resignation.
In this respect, the actions we saw yesterday at the united forum of a number of political parties and movements do not give any answers to the questions and do not meet the expectations of the Belarusians. This is because, indeed, there is a huge anxiety and a huge chance for all Belarusians.
I personally have certain hopes for Pavel Seviarynets, but frankly speaking, if we compare Pavel with other leaders of the Belarusian opposition - such as Zianon Pazniak, Hennadz Karpenka, Viktar Hanchar, Yury Zakharanka, Andrei Sannikov, who cannot participate in the elections, such as Mikhail Marynich and even Aliaksandr Milinkevich - he, in my opinion, is much weaker than these politicians who have been and were acting in the Belarusian history.
I would like to see Pavel taking some more thoughtful and serious steps to form a common team - since, in my opinion, he will win these primaries. However, whether he is ready to realize his role is a big question for me.
- In your opinion, what actions and what strategy meet today's situation in Belarus and expectations of the Belarusians?
- First, it is necessary to hear the Belarusian people and talk about the problems that really concern our citizens.
I have looked through the interview of Pavel Seviarynets to Radio Svaboda - the impression is very depressing: of the interview itself, which demonstrates the level of Belarusian "independent" journalism, as well as of the answers given by the politician. I did not see any understanding of what really concerns the Belarusians. The majority of our citizens is on the verge of physical survival precisely because of the long existing dictatorship in Belarus.
Pavel Seviarynets is concerned about slightly different matters - probably, very important ones, but I do not know to what extent they can be solved on the political level. For instance, he sees Christianization of Belarus as one of his main missions. If he considers this his mission, then maybe he should become a priest of the Russian Orthodox Church and then fight for the bishopry. Then these tasks will be appropriate.
I would like to say that the processes in Belarus will be going on simultaneously: so it happens during the revolutionary period. And the Belarusian people will demand those actions that can change the situation in the country, and there will appear such leaders who will give answers to these questions.
But the most important thing now: one can't expect that a group of associates would appeare - and they would solve all the problems for the Belarusians. There are no grounds for that. It seems to me that nowadays modern means of communication will allow Belarusians to work out together the strategy and the tactics.
This strategy cannot be dogmatic. What I liked about the decisions of the yesterday's democratic forum and the speeches of its leaders is that they reserve the opportunity to say that a boycott of the so-called "presidential elections" is not ruled out, and that they will campaign for Lukashenka not to have the right to participate in them.
We see that today the fines for the actions in support of independence, supported by the authorities to some extent, are already approaching one hundred thousand dollars. And what if they are millions of dollars? To participate in "elections" under such circumstances? When activists are sentenced to four months of administrative arrests for loving Belarus.
One should certainly take into account the actions of the authorities. We can see that the power is weak, that the power is afraid, but the absolute majority of people in epaulets - military, ordinary policemen - do not support this power. Besides, Lukashenka is seeing conspiracies everywhere and the system is destabilized.
- What would you like to say to the participants of the presidential campaign in 2020, as well as to the Belarusians who are waiting for answers to the questions related to these elections?
- I want to say that, strange as it may seem, our chances of victory are great. As the economy has been in a "broken-down" state before, and after Lukashenka's inadequate actions, which led to oil and gas wars with Russia, this situation will deteriorate even more.
It seems to me that Belarusians should not be afraid to participate in political actions - in direct actions resisting this regime. And we must understand that there is no other way but mass protests. It is necessary to be ready for it at various levels. To the point that, realizing that the protests may take several weeks or even months, one should at least make a stock of products and necessary things for the time of possible protests. And this could be the first step to prepare for them. It is necessary to talk to your close circle - whether it is politically active or not - and look for those who will be ready to join you in these protests.
I would advise Belarusian politicians and respected Pavel Seviarynets to hear the people and to be more adequate to the challenges the country faces. For despite all my critics towards Pavel, I would like to say that, in my opinion, he is a decent and brave man, who behaved with great dignity during the years of imprisonment and restrictions of liberty, and under certain conditions Pavel may become one of the leaders who will save Belarus. But it is not right to turn into sectarians and go to Belarusians with it.
I think that another plus of the campaign, which was announced yesterday, will be an actual discussion by Belarusians of the question "what to do?" or, as Belarusian bloggers said, "what is next?" The search for this answer began last year, and we have literally several months - maybe even a couple of months - to prepare for real changes in Belarus.