Column Of Minskers Goes Towards Paunochnyja Cemetery, Where Raman Bandarenka's Funeral Will Take Place.
5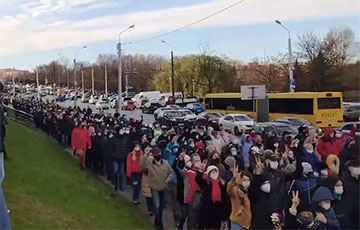 Video fact.
As reported by the See Elections? telegram channel, a column of people is going towards the Paunochnyja Cemetery to the funeral of Raman Bandarenka. They are clapping, some are showing the sign of the Victory.
Earlier, there was a ceremony of farewell to Raman Bandarenka, which was attended by thousands of citizens of Minsk.
We remind that in the evening of November 11, Raman was brutally beaten in the yard of his own house. Later it became known that he was taken to the Tsentralny district police department. Already after midnight Raman was brought to the emergency hospital in coma. In the evening of November 12, Raman died.
He was 31 years old, the only son of his parents.