Most Participants Of Eismant-Baskau Gang Identified
191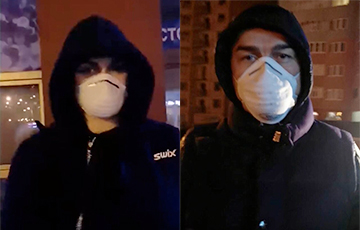 The people's justice will find the rest of them.
The bandits who cut down the white-red-white ribbons at night, as it follows from the audio records of the conversations between Natallia Eismant and Dzmitry Baskau, are acting under the cover of the top-ranked security officials: Karayeu, Shakhrayeu, Kubrakou, Barsukou. However, the "Nick and Mike" Telegram channel paid attention to the less obvious characters.
Pavel and Zhanetta - these guys got uncovered before. They are ex-hockey player Pavel Volchak and his wife Zhanetta. Baskau refers to them as "the Volchak family" in the conversation.
Then, some woman named Ania is mentioned twice. First, Natallia is saying that she would take Ania, and then, according to Natallia, Ania offered to buy glasses for "Massandra" in a shop.
So, let us introduce: Hanna Eismant - the sports host on "Belarus 1" TV channel, and the sister of Ivan Eismant, the head of the Belarusian TV and Radio Company. That very girl from Lukashenka's escort who ensured a silky smooth career for the whole family.
In this video the participant of the gang is present at 5.16.
The interlocutors also voice the name "Ksiusha". According to the information obtained by the Telegram channel, this is no other but Ksenia Sankovich, the former gymnast who seems to enjoy harvesting watermelons at Lukashenka's hacienda.
Apart from the above, the names Lena and Siarhei were called. On this, the Telegram channels' sources continue to work. The information will be published soon.
Thus, 7 gang members out of 11 have been identified:
Dzmitry Baskau
Pavel Volchak
Zhanetta Volchak
Natallia Eismant
Hanna Eismant
Dzmitry Shakuta
Ksenia Sankovich
These two characters are still surnameless:
Siarhei (?)
Lena (?)
"Two more remains unknown. But we will find you. Get ready," the Telegram channel writes.