'We Must Not Be Indifferent, This May Affect Each Of Us'
2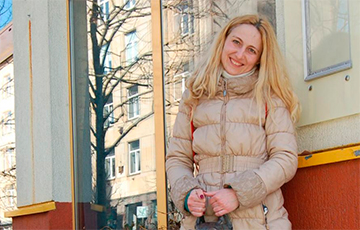 What is known about political prisoner, teacher of BSUIR Volha Filatchankova.
As of the morning of November 25, 143 people have been recognized as political prisoners in Belarus. 22 women in Belarus are political prisoners. Volha Filatchankova, a teacher at the Belarusian State University of Informatics and Radioelectronics, is one of them. Spring96.org spoke with the son of the political prisoner Ivan Filatchankou, so here is Volha's story.
KGB officers detained her on November 12 after a search of her home. She was charged under Part 1 of Article 342 of the Criminal Code (organization or participation in group actions that grossly violate public order). For the second week, Volha has been held in custody.
Who is Volha Filatchankova?
Volha is 41 years old, she worked as an assistant at the Department of Information Technology Software at the Belarusian State University of Informatics and Radioelectronics.
Volha has two children - a seven-year-old daughter and an 18-year-old son, Ivan. He studies at the same university where his mother works, only at a different faculty - the faculty of infocommunications.
As Ivan says, Volha did a lot of things in her free time:
"She has been dancing all her life - this is a family thing for us. For the past few years she has studied national culture. She was also interested in private kindergartens".
"This may affect everyone". What is known about Volha's civil position
On October 26, the previously announced national strike began in Belarus. It was supported by many institutions and employees of Belarus, in particular students and teachers. Volha Filatchankova, being a teacher at BSUIR at the Faculty of Computer Systems and Networks, also took part in the strike. At this university, 38 professors initially joined the strike openly.
Volha announced her civil position in a joint video message by BSUIR teachers against violence. In it, a Belarusian-language teacher drew attention to the political persecution of a fourth-year student at their university, member of the strike committee Dzmitry Mazura, who was sentenced to 38 days of arrest for participating in protests under Article 23.34 of the Code of Administrative Offences.
"Our student Dzmitry Mazura has publicly expressed his civil position that one cannot be indifferent and that this can affect each of us. The result is 38 days of arrest," Volha said in the video message.
It is also known that Volha was an independent election observer during this presidential campaign. During the search, the security forces took away all the documents and records related to this.
The teacher's son, Ivan, cannot say for sure why she decided to observe this presidential campaign.
"Probably because the situation is already quite egregious. After all, the power must change," Ivan said laconically.
Volha, like many in our country, spoke against violence after the August events. She signed the appeal of the Belarusian scientists on August 13 to the authorities, demanding an immediate end to any violence against civilians, and the release of all detained demonstrators and political prisoners. The appeal was supported by more than two thousand scientists, teachers, employees of scientific institutions of the Republic of Belarus.
"A couple more minutes and they would start breaking the door".
Volha Filatchankova was detained by the State Security Committee on November 12 after a search at her house. Ivan told how their house was searched:
"The search was carried out by three unknown operatives and one senior lieutenant of the KGB. We let them into the apartment ourselves, because a couple of minutes more - and they would start breaking the door. They had already called the security group, and when we let them in, they called and said: "Drop it, guys, no need to come, we are in".
The search was chaotic. It was not clear what the reasons for the search were. It was not clear from the ruling on what grounds were the assumptions that there might be some documents at this address. The search took place without a lawyer, as they refused to let her in. And in general, the search was more like an inspection with partiality. They did not turn the house upside down, but seemed to be looking for something specific. As a result, they seized all the equipment: my mother's and mine. They also took away my mother's observer workbook, and some documents regarding the observation at the elections."
Volha was detained immediately after this search. They said that they were taking her just for a conversation, but she did not return home. She was placed in the KGB pre-trial detention center, and then transferred to the remand prison #1 on Valadarski Street. Volha was charged under Part 1 of Article 342 of the Criminal Code (organization or participation in group actions that grossly violate public order). The sanction of this norm provides for up to three years in prison. The restraint measure is holding in custody. However, the details of the accusation remain unknown. Volha's lawyer has signed a nondisclosure agreement.
On November 23, the Belarusian human rights community recognized Volha Filatchankova as a political prisoner.
You can write letters to Volha at the following address: 220030, remand prison #1, Valadarski Street, Minsk, Belarus