Roman Catholic Priest To Usurper: Repent, You Have Too Little Time
29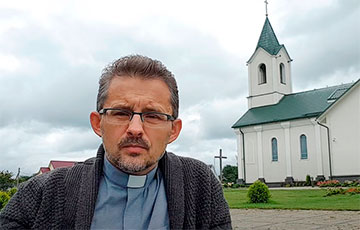 You will have to go to The Hague and answer to the law.
According to one of the most active priests in the media space, Roman Catholic priest Viachaslau Barok, Lukashenka must repent.
The priest stressed in his interview to The Voice of America that "he must shed the light of God's Word on those processes that occur in the world, and give moral assessment of certain phenomena".
Therefore, when protests started in Belarus, "the evil manifested itself too clearly, I was just obliged to talk about it and call the evil by its right name".
Barok is glad that the church did not stand aside when peaceful protests started: "The church goes near every person and supports him on his way, explains how to make a choice to remain faithful to his conscience, to choose the good always. And the Catholic Church, in particular, is now close to its congregation and people. It pleases me. Although one has to pay the price for it".
The priest reminded that when the protest began, Catholics, Orthodox and Protestants presented united front, because "no one wanted to stay aside when people were tortured, when people were abused".
However, after a while, the official Orthodox Church, represented by Metropolitan Veniamin, began a dialogue with the authorities: 'It is not bad that someone wants a dialogue. The bad thing is that there is some kind of understatement in the grounds of this dialogue. And the bad thing is that the church officials call for silence. In one of the dioceses, priests were forbidden to express their opinion.
According to the priest's opinion, today there is "an internal split in the Orthodox Church, when the highest hierarchs negotiate with the authorities, and priests on the ground want to preach the Word of God and remain faithful to God, the church and man - in this case, it is no longer possible to compromise and agree with the authorities".
Barok emphasized that the church should not interfere in politics. However, he does not understand how one can call criticism of what is happening - murders, falsification - interfering in politics: "This is not just politics - these are things that concern our conscience, that concern good and evil".
If the priest had the opportunity to meet with Lukashenka, he would have told him: "Repent, you have too little time left. Life is given only one, you have to admit all your mistakes, you have no right to hold power illegally, you have no right to abuse people, you have no right to kill, each of us should live by the law. And if I am summoned to the Investigative Committee, I am not against answering to the law, I am not against the Investigative Committee and the General Prosecutor's Office to check all my actions and statements. However, I only urge: in such a case you, Aliaksandr, go to The Hague and answer to the law".