Natallia Radzina: Lukashenka Should Appear Before the Court
33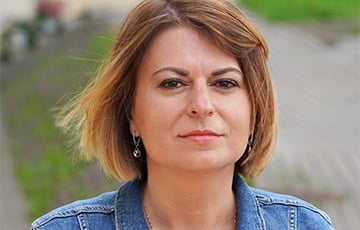 He will not be in power next year.
In recent years, Belarusians have regularly traveled to Ukraine to buy clothes and groceries cheaper. And they were surprised that a country is at war, but they live better than them. And this is not to mention the level of freedom, which is incomparably higher in Ukraine. The last straw in the cauldron of discontent with Lukashenka was the way he reacted (or rather, did not respond) to the coronavirus pandemic. And then, the Belarusians realized that the dictatorship poses a threat not only to freedom but also to their lives. All this in total became the reason for the start of the people's revolution in Belarus, says Natallia Radzina, editor-in-chief of one of the main Belarusian online media, Charter'97.
She calls the mass anti-government protests a revolution and is convinced of its victory. In an interview with Ukrinform journalist Vasilij Korotkij, Natallia Radzina spoke about the role of bloggers and Telegram in the protests, the Kremlin's strategic mistake, why one should not have excessive expectations from Sviatlana Tsikhanouskaya, and who are the real leaders of the Belarusian opposition.
BELARUSIANS UNDERSTOOD THAT DICTATORSHIP POSES A THREAT NOT ONLY TO FREEDOM BUT TO LIVES
- Natallia, how expected were the mass protests that began after the presidential elections for you?
- We in the Charter were just one of those optimists who really believed that a revolution in Belarus would happen and tried to do everything possible to bring this time closer.
We were never afraid to write about what was happening, and we clearly said that without mass protests, it is impossible to change the situation in a country where dictatorship reigns and elections are blatantly falsified.
- There have been protests in Belarus before, but not so large-scale. What were the main reasons that led people to take to the streets en masse in August?
- This happened for several reasons. Firstly, people have accumulated a huge hatred for this regime. Secondly, the economic crisis and the coronavirus pandemic played a role.
Living conditions in the country have deteriorated significantly, and this is primarily due to Lukashenka's mediocrity in governing the country. The economy in Belarus is unreformed. All these years, it has existed thanks to Russian subsidies, the sale of oil products from Russian oil, and also due to loans that Lukashenka constantly took from both Russia and the West.
But due to the fall in oil prices, the kindling and waging of wars by Russia in many countries, the economic situation in the Russian Federation itself no longer allows it to maintain Lukashenka's satellite regime in the previous volumes. This led to a serious crisis in the Belarusian economy - unemployment rose sharply, salaries and pensions fell, food prices rose.
At the same time, the authorities began to pass completely absurd laws and decrees, such as the scandalous "decree on parasites," which sparked massive protests in 2017.
And the last such drop was the coronavirus epidemic, which Lukashenka decided not to notice: no quarantine was introduced in Belarus, and the authorities pretended that nothing was happening and no one was sick. In the meantime, there was a massive infection of the population - after all, there was no mask regime, people went to work, and children went to schools. Official statistics, of course, hide the number of deaths from the coronavirus. But only in the spring, about 20 thousand people could die in Belarus! And at that time, Lukashenka from the TV screen called those who are afraid of coronavirus idiots and insulted the deceased.
And thus, the Belarusians understood that the dictatorship poses a threat not only to freedom and human rights but also to their lives. It became clear to everyone how dangerous and inadequate Lukashenka is.
All of this, taken together, caused the revolution that we are witnessing today.
- Is there a revolution in Belarus now?
- Of course, this is a people's revolution that continues. And I am convinced that it will end in victory.
THE BLOGGERS STARTED THE REVOLUTION, AND THEN TELEGRAM PLAYED A GREAT ROLE
- What is the role of media and social networks in this revolution? How did Telegram become the main communication and information platform of the Belarusian opposition?
- The media in Belarus were in a strangled state. For example, "Charter" has been working from abroad since 2011. We were forced to start writing from Poland and Lithuania after the website's founder was killed on the eve of the 2010 elections, journalists were arrested, searches and equipment confiscated.
It was difficult for journalists to work inside the country because they were under pressure, warnings were constantly issued to newspapers and websites, blackmail by the special services continued, and the censorship level went off the scale.
I would say that bloggers started this revolution in Belarus first of all.
Against the background of a fairly large number of topics being hushed up in the media, bloggers working inside the country began to loudly tell the truth about what is really happening in Belarus on their YouTube channels. And their contribution to changing the situation is huge.
Another important moment of the revolution in Belarus is Telegram channels. When the Internet was blocked in Belarus after the elections, Telegram continued to work, and the role of channels that appeared at this time is simply enormous. After all, they continued to inform people about what is happening in the country, and people were able to send their videos, photos, and proposals for action to these channels – this was an important communication factor that raised people's spirits.
This is how a number of Telegram channels appeared, which later became especially popular. Now, with their help, doctors, students, and strike committees create and coordinate their channels. There are courtyard and neighborhood chats.
RUSSIAN PROPAGANDISTS ON BELARUSIAN TV SITE DISSOLVE
- Some Belarusian journalists left the state media out of disagreement with the actions of the authorities. How massive was this phenomenon?
- Quite a lot of journalists have left the state media. Although I do not like to call them journalists - for me, they were mostly propagandists anyway because all this time they worked for the regime.
But nevertheless, it is a positive thing that at last, in the 26th year of the dictatorship, their consciences woke up, and they refused to serve Lukashenka's regime.
As far as I know, there is a big shortage of personnel there. And this has already been noticed by the Belarusian viewers when the same journalists make reports on different topics on state channels: they have to race between departments and do everything because, obviously, there is not enough staff. This, of course, cannot but rejoice.
- It was reported that Russian propagandists came to replace the dismissed.
- Yes, employees of Russia Today, the famous dirty Russian propaganda channel, came from Russia. If the Belarusian propaganda itself was terrible, then with Russian propagandists' arrival, it became simply terrifying. And the propaganda they create is now creating real national discord and provoking a civil war in Belarus. It is a weapon of mass destruction that needs to be neutralized as soon as possible.
RADICALIZATION OF PROTESTS IS POSSIBLE DUE TO ARBITRARINESS ON THE PART OF THE AUTHORITIES
- The authorities each time violently disperse the rallies and detain their participants. In what direction is the situation with mass protests developing?
- This terror did not break the people's spirit, although the current repression is much larger than in previous years. About 30 thousand people have already been detained since the start of the election campaign in Belarus. Despite this, the actions and protests continue.
The main thing is that no one is going to put up with this regime; everyone has an understanding that it needs to be changed. Yes, this is difficult to do. Yes, he is holding on to bayonets today. Yes, there is a fairly large number of security officials who are defending him with all their might. But, nevertheless, they are a minority. And everyone in Belarus understands this today. Everyone understands that we are the majority and that the truth is on our side.
Therefore, I believe that, in the end, we will win.
- Over time, protest activity may drown; people will get tired of going out on the street to no avail but at the risk of going to jail.
- It will not drown. We are the majority. And while some are in prisons, others come to their place. While some are beaten, others come in their place. Even if the protests become less massive for some time, this does not mean that there will be no resistance to the regime. It will be, and it happens every day.
- How likely is the radicalization of the protest?
- It should be understood that, unlike Ukraine, there have never been paramilitary organizations in Belarus. And therefore, the protest is peaceful.
However, radicalization is possible because it is fueled by the authorities' arbitrariness, persecution, and torture of people - all of this ultimately causes such rage and anger that I simply cannot rule out radicalization.
THE OPTION TO RETIRE IS ALREADY UNREALISTIC FOR LUKASHENKA
- What is the strategy of Lukashenka's regime to preserve its power?
- The strategy is obvious: he just wants to roll everyone into the asphalt. But nothing happens. These harsh, in fact, punitive actions against the civilian population cause nothing but anger and hatred in people.
I don't believe in any changes in Belarus under Lukashenka, just as, in my opinion, the majority of Belarusians don't believe either. And all his assurances about constitutional reform are just idle talk. Lukashenka is simply lying. You can not trust him absolutely in anything.
No fair elections are possible while Lukashenka is in power. First, there will be Lukashenka's resignation, the release of political prisoners, and only then the holding of new elections.
- Can Lukashenka agree to a voluntary transfer of power?
- No. He can flee the country. That's what I believe in. And for this, we need to continue mass protests.
It should be understood that the maintenance of this whole gang of AMAP, punishers is expensive, and there is no money for this in the country now. According to my information, Lukashenka has money left for just a few months. Therefore, I believe that he can run. But I would not like him to escape punishment because, in my opinion, Lukashenka should appear before a court - both independent in Belarus and international in the Hague.
- That is, you exclude the option that Lukashenka will give up power and remain in Belarus in peace?
- He has already committed so many crimes that simply transferring power, staying in the country, and retiring, relatively speaking, settling in one of his 18 residences - this option is already unrealistic for him. After all, even if he receives some guarantees from the next president of Belarus, these guarantees will never be given to him by the Belarusian people, who will not forgive him for crimes, murders, and torture. During his reign, hundreds of thousands of people were repressed in Belarus.
ECONOMIC SANCTIONS SHOULD BE IMPOSED AGAINST THE DICTATORSHIP IMMEDIATELY
- How stable is Lukashenka's regime today?
- It's absolutely unstable. I think that Lukashenka will not be in power next year.
In addition to internal resistance, powerful external actions are especially important to shorten the term of Lukashenka's stay in power. And here I am talking about tough economic sanctions that must be immediately imposed against the dictatorship. First of all, this concerns the ban on the purchase of petroleum products and potash fertilizers from Belarus. In addition to the EU and the US, Ukraine could also join these sanctions.
It will also be effective to disconnect the financial system of Belarus from the SWIFT system. It is necessary to impose sanctions against enterprises where workers are being harassed and sanctions against oligarchs - Lukashenka's wallets, as well as to expel Lukashenka's diplomats from foreign countries since they represent the illegitimate regime.
If these steps are taken, it will accelerate the fall of Lukashenka's regime.
- Will the sanctions you mentioned also be directed against the Belarusian people?
- No, I don't agree with that. Today in Belarus, there is a clear understanding that these are sanctions not against people but against the regime. I follow public opinion on this issue, and there are almost no opponents of sanctions. The people were forced to live in such difficult conditions that they support as much pressure on the regime as possible.
ANTI-RUSSIAN SENTIMENT GROWS IN BELARUS DUE TO PUTIN'S SUPPORT FOR LUKASHENKA
- How big is the risk of losing its sovereignty? Here I mean the so-called "deepening of integration" between the Republic of Belarus and the Russian Federation, which Lukashenka may be forced to do under pressure from the Kremlin.
- I would not talk about integration now; it is simply impossible. Lukashenka's signature today is invalid under any international document. Therefore, even if Putin goes crazy and tries to sign some documents with Lukashenka, no one in the world will recognize them. But the most important thing is that the Belarusian people do not recognize this.
I am convinced that Russia's attempt to occupy Belarus will trigger international sanctions, even tougher than those for Crimea. Not to mention the fact that the Kremlin today is unable to support the 9 millionth Belarus financially. It can no longer support Crimea, where the standard of living has fallen significantly.
Therefore, Russia will have to come to terms with the will of the Belarusian people.
For me personally, Putin is exactly the same illegitimate ruler as Lukashenka. It's another matter that, in Belarus, the people rose up against their dictator, while in Russia, I think, everything is still ahead.
- How do Belarusians react to Moscow's position on the protests in Belarus?
- In fact, today, there is an increase in anti-Russian sentiments in Belarus - precisely because of Putin's support for Lukashenka's regime.
This, of course, is a strategic mistake of the Russian leadership.
I understand that there has always been solidarity among dictators. As I understand, Putin is afraid of the current revolution in Belarus - Russians are closely following the events in our country, and many of them support us.
But I hope that some remnants of reason will prevail and support for the Belarusian dictatorship will stop. Today in Belarus, the Kremlin is already called an accomplice of the crimes committed by Lukashenka's regime. And therefore, Putin should seriously think about it.
- Think about what?
- That they can completely lose Belarus because every day in Belarus, these anti-Russian sentiments are growing.
Before these events, Belarusians were quite loyal to Russia, although they understood that Belarus should be an independent and sovereign country. In particular, this attitude was ensured by Russian propaganda, which is widely present in the country. But now, even that no longer works - people see everything and are indignant about the support that the Kremlin is providing to Lukashenka.
BELARUSIANS HAVE STRONG SUPPORT OF UKRAINE
- So, maybe this change of mood will help Belarusians better understand the situation around the Russian aggression against Ukraine?
- In fact, the majority of Belarusians support Ukrainians. Perhaps in the first years, there was a fear of the Maidan, there were also "Crimeanashists" - a result of the work of the Belarusian and Russian propaganda, who worked in unison.
But gradually, people began to see clearly. In particular, this is due to the fact that Belarusians began to travel to Ukraine more often: Lviv and Kyiv became the new main tourist routes, along with the traditional Vilnius and Warsaw. They began to pay attention to the fact that you are a warring country, but the standard of living in Ukraine is higher than in Belarus, and in terms of the level of freedom, it can't be compared at all.
In addition, many Belarusians travel to Ukrainian border cities to buy food and clothing there because everything is cheaper here.
- And I heard talk about Ukrainians who go to Belarus because it is cheaper there.
- On the contrary, in recent years, many Belarusians go to Ukraine to buy cheaper. And this is not only Homel and Brest but also Minsk, where there were regular flights to Ukrainian border cities for purchases.
I know many people who came and then said: "God, how good it is there, the prices are lower, everything is fine. And here, Lukashenka constantly talks about some kind of stability, but why then are we so poor, not to mention the fact that unhappy?"
Therefore, once again: the attitude of Belarusians towards Ukrainians has changed dramatically, and in fact, support for Ukraine is very strong.
THE VICTORY OF THE REVOLUTION, OR THE DIRTY SCHEMES OF LUKASHENKA AND PUTIN
- How do you assess the reaction and position of Ukraine regarding the events in Belarus?
- We welcome the fact that the Ukrainian authorities did not recognize Lukashenka's legitimacy - this is already a big step. And we hope that the next step will be Ukraine's accession to serious economic sanctions against Lukashenka's regime and the termination of trade with him, in particular, the purchase of oil products, the share of which is significant on the Ukrainian market.
- On the other hand, as stated by Foreign Minister Dmytro Kuleba, Ukraine expects the Belarusian opposition leaders to make statements about how they will build relations with Ukraine after coming to power. In particular, important for the Ukrainian side is their position regarding the occupation of Crimea by Russia and the ongoing aggression in Donbas.
- I cannot speak for the entire opposition. I can only say for myself: Crimea is occupied, Crimea is Ukraine, and the war in Donbas was unleashed by Russia, which seized these territories. For me, these are obvious things that were clear to me from the first days, and I never questioned them.
If some people who call themselves the Belarusian opposition think differently, then this is exclusively their personal opinion. But I think that they have no right to call themselves either opposition leaders or democrats with such rhetoric.
Most of the Belarusian democrats had always supported the Ukrainian people, both when Crimea was occupied and when the war in Donbas was unleashed. But on the part of Ukrainian politicians all these years, there was almost no solidarity with the democratic opposition in Belarus. We, Belarusians, would like Ukrainians to adequately treat Lukashenka's regime, which, moreover, remained the most popular foreign politician in your country.
If you need solidarity and understanding of Ukrainian national interests, then you should also respect Belarusian national interests and be in solidarity with us.
- I think the Ukrainian concern is whether the new leadership of Belarus will be openly pro-Russian.
- Let's solve problems as they come. Today the revolution against the criminal regime continues, and the most important thing is to support the Belarusian people now. This, among other things, will prevent the implementation of the option with pro-Russian politicians, which you are talking about.
Otherwise, there may be some really dirty schemes, when Lukashenka comes to an agreement with Putin, carries out some kind of constitutional reform, appoints a protege of the Kremlin, creates a fake opposition and brings it to parliament - and we will have such a continuation of Lukashenka's regime, but with a different name.
It is also important to strive for the release of political prisoners since real opposition leaders are in prisons, including pro-European politicians who have defended the national interests of Belarus all their lives.
If we release these people and achieve Lukashenka's resignation, they can create a coalition government, which will already appoint new parliamentary and presidential elections.
SVIATLANA TSIKHANOUSKAYA IS A SYMBOL OF THE OPPOSITION, AND THE LEADERS ARE IN PRISON
- In the near future, Sviatlana Tsikhanouskaya is expected to visit Kyiv, maybe then something will become clear.
- Sviatlana Tsikhanouskaya is not an opposition leader. This is a woman who found herself in this situation by accident. Yes, she won the election. But people did not vote for her but against Lukashenka. Yes, she is an elected president, but her program's main point was to conduct new, fair elections with the participation of worthy candidates. Therefore, I would not put excessive responsibility on Sviatlana Tsikhanouskaya and wait for her to clarify something to you. She is a symbol of the Belarusian people's struggle, but not the leader of the opposition, in which she has never been. So let's not get too excited about this woman.
- And who, then, are the leaders of the Belarusian opposition?
- They are either in prison or in exile. In particular, these are Mikalai Statkevich, Pavel Seviarynets, Viktar Babaryka, Siarhei Tsikhanouski, Yauhen Afnahel, Ihar Alinevich, Andrei Sannikau, Dzmitry Bandarenka, Zianon Pazniak.
Unfortunately, inside the country, real leaders are now in jail. As soon as a person begins to manifest, the regime immediately represses him.
Nevertheless, Belarus is currently in the process of forming new local elites. It happens everywhere. And this is very important.