Ales Krutkin: Combative Mood, Wrote 12 Poems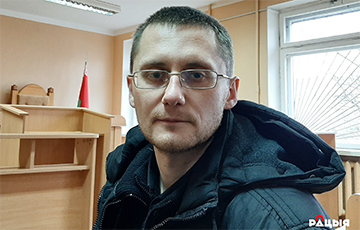 The European Belarus activist is going to stay on hunger strike without water and food.
The Kastrychnitski district court of Vitsebsk called the sticker "Basta To Collective Farm Dictatorship" a poster. Those who'd pasted it on the building of the regional prosecutor's office were found guilty of violating the legislation on mass events. Natallia Spirydonava was fined 30 basic units (Br810). Judge Illia Belavus sentenced Ales Krutkin to 15 days' arrest, racyja.com reports.
This will be the second consecutive 15-day term for the European Belarus activist: the previous one, by which Ales Krutkin was punished for protest rallies in Minsk, has just ended today. The guy says he's still feeling well:
- First I was in Vitsebsk detention center, then in the Palatsk one, then again in Vitsebsk. They spent about $200 just on fuel for this "special operation". The mood is combative, I have written 12 poems, was writing articles. The state of health is good, but it will probably get worse if I keep hunger strike without water and without food.
Ales Krutkin warns that he will be on hunger strike if he is punished with another arrest. It seems probable, as two administrative cases have been filed against him and Natallia Spirydonava for the stickers. The case on the stickers on the prosecutor's office ended with a fine and days of arrest, while the trial for the sticker on the building of the house-building plant will be continued on February 13.
After the detention on January 27, the police have re-written the protocols three times, looking for the reason for punishing. First they both were accused of hooliganism, then - of littering the city, and finally the police stopped at Article 23.34 of the Administrative Code. It provides for higher penalties than the others.