College Student: We Must First Change Power Under Which We Live For $31
4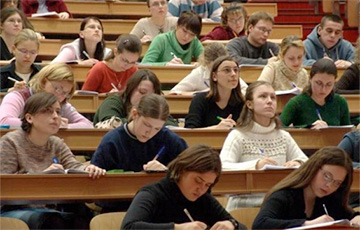 The young man has described the attitude of his generation to what is happening in Belarus.
17-year-old student of Mahiliou College of Architecture and Construction Viachaslau Stupinski has answered the questions of the press service of the European Belarus civil campaign.
- What specialty are you studying for, why was it chosen?
- "Industrial and Civil Engineering". This kind of activity is the most perspective and, having chosen this specialty for myself, I have all chances to become a financially independent person. And plus I like it very much, and my studies are going well.
- And what about finances now? What are the scholarships, salaries, pensions in Mahiliou today?
- Scholarships, for example, in my college, start from 69 rubles. Of course, this is not enough for a month, so parents help. The salaries in the city, as far as I know, are ones of the smallest. People live with their problems. Now it's also a tense moment: we're already in our third year, and we have to either find the internship ourselves, or accept the postgraduate assignment of the college - usually at house-building factories or trusts, so the internship will not be paid for.
Students are mostly looking for organizations independently, the ones that can pay for their internships. And as for the others, they mostly bend their necks.
- Don't your peers think about going abroad?
- 70% want to go abroad after their studies just because they don't see the prospect of personal development in this industry. The rest - either just love their country and believe in changes, or just do not have the financial ability to leave, and the third are those whose parents are well settled under this system, either individual entrepreneurs or civil servants.
- How should we change the situation in the country so that young people feel the prospect and support for themselves in Belarus?
- To feel the prospect, one should first of all expect a good salary, less control of the state and the so-called "ideologists". They do not teach us to think how to maintain financial stability, and it should be started from school... Naturally, this is only possible if the situation in the country changes. It is necessary to change the current authorities first, who, for the most part, do not want to change anything.
- Imagine that you have the opportunity to address your peers. What can you tell them?
- I'd like the young people like us to start thinking about the future of our state and first of all, not to keep silent and not to bend their necks, but on the contrary, to be an acting force in the country directed to changes and transformations.