The 'Robin Hood System' Initiated in Belarus. Public Employees Bowled Over by Salaries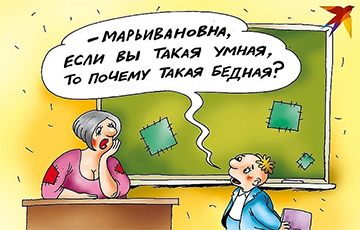 Specialists with higher education and cleaners received the same amount of money.
January 1, the authorities decided to calculate the salaries of public employees in a new way.
The other day they received their first payslips for January and were not happy at all, writes kp.by.
The new wage system has already been called "the Robin Hood system," when low wages are increased at the expense of high ones.
"GOT 300 RUBLES LESS, BUT THEN THEY PAID 210 RUBLES EXTRA"
We couldn't find people who agreed to show their payslips openly. They even agreed to speak on condition of complete anonymity.
- What does happen to those who complain? The chief said: if you want to keep your job then keep silence. If there is anything you don't like, we can easily find others," sighs paediatrician.
The main problem is that the public sector workers have lost their promotion rates and have their bonuses reduced.
- I'm an associate professor and a PhD, plus the deputy dean at the university. Like all state employees, we have miserable salaries. In the end, the salary is not bad due to bonuses", says Anna Arkadyevna, Deputy Dean. - Now my salary is 353 rubles, bonuses made up other 100 rubles. How should my salary grow now? Nothing is clear with bonuses at all... The payslip looks unreliable - "at the discretion of the superiors".
Seeing dissatisfaction with the reduced salaries, some economists and accountants agreed to additional payments.
- At first, I got 300 rubles less than in December, but then they paid 210 rubles extra," says doctor Oleg. - However, I got Br90 less due to lack of some extra payment, it was promised in February. In February, we seem to get more than usual. I have to wait for the salary in March. Then it will become clear how much we get now.
Some enterprises were proactive and slightly shifted their thirteenth wages so that January wages did not look so depressing against the December ones. However, there are problems as well.
- Usually, we were given the thirteenth salary in December, and now we were paid in January. I withdrew these 500 rubles from the amount, and it turned out that the January salary is less than the December one. In December, I received 1000 rubles without the thirteenth salary, and in January, I got 1200 rubles with it. I have two questions: where is the difference of 300 rubles and how much less will I get in February? Anna Arkadyevna, deputy dean at one of the universities, wonders.
Nevertheless, some received a little more in January than in December. They are mainly those who used to earn the least of all - young specialists, workers without much work experience and categories.
- I wonder is how fair it is, the professor and associate professor of the department with 25 years of work experience outrages. - Our coefficient for pedagogical experience (30% of salary) was abolished and now the difference between me and the trainee lies in additional payment for the degree, which is about 400 rubles.
- I got 4 rubles more than in December - 436 rubles, although many people received much less. The chief got minus 250 roubles at all. Girls in the accounting department called it "the Robin Hood system," when low wages are increased at the expense of high ones.
"THE ACCOUNTANT CRIED, AND THEN SHE FILED FOR RESIGNATION"
It is not easy now for accountants and economists who are trying to calculate public sector revenues. It would seem that half of the complex calculations are removed, and the calculation should have become more transparent. But it's not that simple.
- Our accountant was nervous and cried when she tried to find out how to calculate salaries under the new system. She said, "Either I'm stupid or there's no way to calculate higher wages". Then everyone went to her to complain, and last week she filed for resignation. The HR department also clutch heads and say that there will be more paperwork: each extra payment will require justification," said the vice-principle of one of the gymnasium.
Brainstorm was even needed to figure out how to count under the new system so that salaries would not drop.
- In January, many clerking workers in our university received salaries even lower than the national minimum. The category of clerking workers includes specialists of dean' offices, methodologists and cleaners. It happened that specialists with higher education and many years of work experience and cleaners received equal payslips. It triggered many complaints, and many people received different individual payments to bring their salaries up to the level of December. I was paid Br20 extra. Anyway, my January salary was Br50 less than in December. As a result, a special commission was formed to consider complaints on an individual basis. If you don't complain, you get less," explains the methodologist at the university.
THE RULER: "IF YOU GET LESS BY A RUBLE, LET ME KNOW"
Aliaksandr Lukashenka promised in December 2019 that salaries would grow.
- If you get less by a ruble working your common hours, let me know. Then I'll deal with all those who offered this," BelTA quoted Aliaksandr Lukashenka.
It seems that some people exercised this right in February. The Administration replied that the "heads of organizations will be held liable for the decline in income".
- Lukashenka's administration keeps this issue under control and is ready to deal with each situation," said the head of the governor's administration Ihar Serheyenka when visiting Belji company on February 13, reports CTV.
The government also warned the heads of public organizations that they would be personally responsible if January wages decline in comparison with December ones. Labour Minister and Finance Minister were to report on the implementation of the sensitive task by February 10. So far, nothing has been reported on it.