Landsbergis: BelNPP Was Created Not Only To Revenge On Independent Lithuania, But To Make Belarus Disappear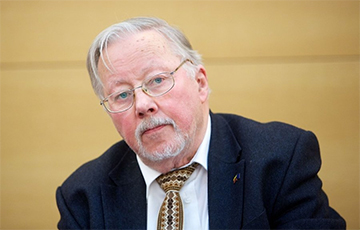 The Lithuanian politician calls not to be silent about the Astravets NPP.
According to Professor Vytautas Landsbergis, Lithuania cannot remain silent about the construction of the Astravets nuclear power station (NPP) on the border with Belarus. This, the professor says, would mean surrender. Vytautas Landsbergis notes that the resistance of Lithuania is the protection of neighboring Belarus from the Russian influence, reports delfi.lt.
"As long as we exist, we will resist. The silence of the lambs would mean surrender," Landsbergis said on Saturday.
According to him, the words of President Gitanas Nausėda, that the movement against the BelNPP has come too late, only make them speak louder.
"The president says with restraint - we will work with more inspiration than in the last 10 years - but he is surprised why we have not yet seriously opposed at the international level. That's why we are appearing. We see that our opponents from Lithuania, the friends of the Astravets bomb, are getting more and more nervous," said Professor Vytautas Landsbergis.
"If Astravets wakes us up to live, to live decently, this will be a great advantage of this monster," he continued. At the same time, the professor emphasized that, according to him, the resistance of Lithuania to the Astravets NPP is a defense of the independence of Belarus.
"The Astravets NPP, or the Belarusian NPP in Astravets, is the last intersection for our besieged sister Belarus. To stay on the Russian side or to melt away? It is obvious that Astravets was created not only to take revenge on independent Lithuania, but also for the disappearance of Belarus. We do not want it to disappear," added Vytautas Landsbergis.