Independent Journalist: One Of "Witnesses" Came To Session Being Drunk
5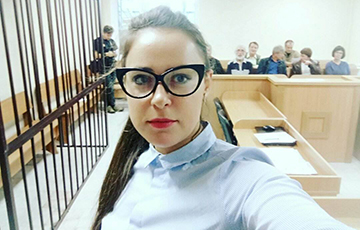 Alina Skrabunova has described the mishaps of the Mahiliou "justice".
Journalist Alina Skrabunova and cameraman Aliaksandr Sidareuski from Mahiliou are tried under Part 2 Article 22.9 of the Administrative Code ("Illegal manufacture and distribution of media products"). The hearing in the case of Alina Scrabunova was postponed until March 4, Belsat reports.
Alina Scrabunova and Aliaksandr Sidareuski are tried for the piece about the 50th anniversary of the trolleybus park in Mahiliou. The material was broadcast by the Belsat TV channel. Policemen found that the journalists had violated part 2 of article 22.9 of the Code of Administrative Violations ("Illegal production and distribution of mass media products"). The penalty for this violation is a fine from 20 to 50 basic units (540-1350 rubles).
"One of the witnesses came to the hearing being drunk. And I don't plead guilty. So the judge decided to question this witness because he's named in the case. Actually, the session was long. As a result, the judge gave a summons to March 4 and postponed the reading of the verdict," - Alina Scrabunova told Belsat.
After the journalist left the courtroom, she was given another summons.
"I'll be tried again under the same article, but in another case. Today's case was initiated by the Kastrychnitski district police department, and another one - by the Leninski district police department," - Alina Skrabunova says.
The journalist and cameraman were detained in Mahiliou on February 8, when they were on their way to cover the protest of drivers, who were outraged by rising fuel prices. The police department issued a summons demanding from Alina Skrabunova and Aliaksandr Sidareuski to appear in court.