Belarusian Human Rights Defenders Meet With OSCE ODIHR Director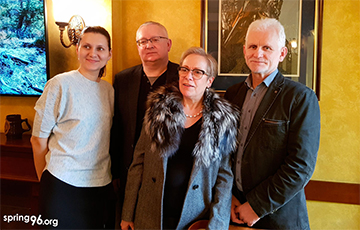 The human rights situation in Belarus was discussed during the meeting.
The meeting of the Director of the Office for Democratic Institutions and Human Rights (ODIHR) of the OSCE, Ingibjörg Sólrún Gísladóttir, with the Belarusian human rights activists was held in Minsk on February 26, Viasna reports.
Chairman of the Human Rights Centre Viasna Ales Bialiatski and chairman of the Belarusian Helsinki Committee Aleh Hulak took part in the meeting.
During the meeting, they discussed the situation of human rights in Belarus, separately voiced the issues of political persecution, implementation of the right to disseminate opinions, the right to peaceful assembly, observation during "elections" and others.
Human rights defenders also spoke about the need to increase OSCE activity in Belarus.