Kiryl Rudy Left Civil Service
31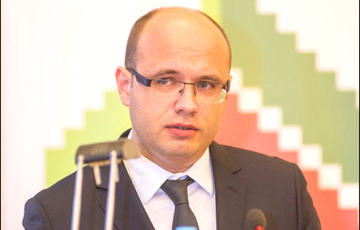 The former ambassador of Belarus to China has found a new job.
Kiryl Rudy, the most famous economist and ideological inspirer of liberal reformers, ex-ambassador of Belarus in China and ex-advisor, has left the civil service. Since April, he has served as an independent director of Bank BelVEB project, Finstore.by. This information has been confirmed to tut.by by Rudy himself.
Kiryl Rudy was born in 1978. He graduated from BSEU, at the age of 23 - Candidate of Sciences, at the age of 33 - Doctor, the youngest Fulbright scholar. From 2013 to 2016 - Assistant to the President for Economic Affairs. He is the chief ideologist of the liberals, author of the bestseller "Financial Diet", which became the most discussed book in 2016. His speeches at the KEF become the year's best - no one else risks explicitly, very calmly and in a well-argued manner to say simple things like that "a forceful reaction to the crisis aggravates it".
Some perceive Rudy's appointment to China in 2016 as an exile and a signal: there will be no reforms, let's disperse. But the ambassador is also very active in the Chinese direction.
Rudy's second book "For We Decided So" about the rules underlying decisions in the Belarusian economy is even more acute and causes diametrically-opposed reaction.
Rudy has become the mouthpiece of the liberal economy. For example, he said that reforms in Belarus are vital, only "the western suit should be distinguished from the western brains". He also criticized the national cultural peculiarities with the Soviet raid, "which in the long run accumulate effect and become barriers to direct foreign investments". And at the "Kastrychnitski Economic Forum," he said that the country needs not economists, but businessmen for normal development.