News From Belarusian Regions Remind Front-Line Reports
28
Yauhen Afnahel
2.04.2020, 16:44

66,694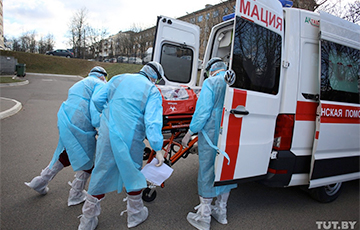 This is the genocide of Belarusians.
The news from the regions of Belarus today resembles front-line reports. Vitsebsk. Kopyl. Vorsha. Minsk. Mazyr. Every day, the coronavirus invades new settlements. Hospitals are crowded, there are not enough protective equipment, and the lives of doctors are already endangered. All this is accompanied by the silence and misinformation from the authorities.
We learn about the coronavirus deaths from bloggers and independent media. What happens in hospitals comes from patients who are told that they have ordinary pneumonia.
The Ministry of Health is silent and talks charades. The officials, through gritted teeth, admit only those facts of deaths that journalists learned about. No official quarantine has been introduced in Belarus. A number of universities that previously allowed their students to study remotely returned them back to the classrooms.
Propagandists often cite the experience of Sweden, which did not impose universal quarantine. At the same time, they forget to mention that gymnasiums and universities are closed in this country, and there are restrictions on transport, bars and restaurants. But even with these measures, in Sweden - about the same country as Belarus in terms of population - to date, 5466 confirmed cases of coronavirus have been recorded. 282 people died.
Medicine in the Scandinavian countries is at the highest level. Imagine now what is the real situation with coronavirus in Belarus.
The coronavirus infects entire social groups. The first cases of infection were detected in students of Minsk universities. Confirmed diagnoses of high school teachers are known. A teacher from the school near Kopyl died of infection, the infection from a teacher at Minsk school #159 was confirmed, we are informed about hospitalization of schoolchildren from different regions of the country. Experts say that the new centers of the epidemic will be colonies and military units. Among the infected there are representatives of the intelligentsia. On Tuesday, it became known about the death of Honored Artist of Belarus Viktar Dashkevich, who, already being infected, took part in rehearsals held at the Yakub Kolas Theater in Vitsebsk. The coronavirus hit employees of the Ministry of Emergencies and the Ministry of Internal Affairs, pensioners, residents of rural areas, where medicine is at the level of the last century, even tractor drivers.
It's too late to talk about criminal silence and inaction of the authorities. You need to call a spade a spade. This is the genocide of Belarusians.
Yauhen Afnahel, coordinator of the European Belarus civil campaign