Adviser To Lithuanian President: We Wish People Of Belarus Unity And Responsibility
9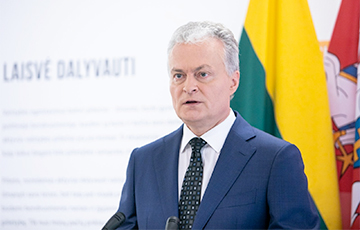 Lukashenka's boorish statement has been commented on at Gitanas Nauseda's.
Last week, Aliaksandr Lukashenka allowed himself to speak disrespectfully about Lithuanian President Gitanas Nauseda, who said he did not trust the official data of Belarus on cases of coronavirus.
"If the moment comes when we need somewhere "to put out the fire," we will put it out. And moreover, we'll be much more effective than the Lithuanian president. He is concerned about the Belarusian virus ... Take care of your virus, you have a lot of questions there," - Lukashenka said.
Advisor to the President of Lithuania Kristina Karnickaitė in response to the request of the Charter97.org correspondent to comment on Lukashenka's statement, noted that it's very important to preserve respect between the countries during the pandemic.
"The virus is spreading rapidly across national borders, so joint action, unity, mutual assistance and respect between countries are key in the fight against it. We should work to save lives. That is a priority for all of us today. We wish the people of Belarus unity, responsibility and strength in these difficult times," - the Adviser to the President of Lithuania added.
Kristina Karnickaitė noted that Lithuania is doing its utmost to stop the coronavirus and is implementing both EU centralised decisions and recommendations of the World Health Organization.
Last week Lithuanian President Gitanas Nauseda said that official information from Belarus about the coronavirus cannot be trusted. "We can't trust this information. I believe that the Belarusian leader assesses the situation with certain bravado. It's quite possible that the true statistics is much worse, as we know about certain hotbeds in the Belarusian territory and deaths, which are recorded," - the President of Lithuania said.
On March 16, Lithuania introduced a quarantine. Everything in the country is closed, except grocery stores and pharmacies. Lithuanian Ministry of Health provides daily statistics on coronavirus cases. As of the morning of April 7, 880 cases have been recorded in the country.