Break the Ice!
30
Mikalai Statkevich
28.05.2020, 12:52

36,175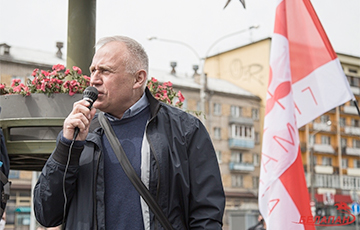 The emotional appeal of the BNC leader to Belarusians.
The leader of the Belarusian National Congress and the People's Hramada Party, Mikalai Statkevich, made an appeal:
"I appeal to the patriots of Belarus.
Lukashenka has placed on hold our country. Belarus is covered with ice. Everything national, historical, dies out under this ice.
Now Lukashenka has not allowed a single patriotic candidate, including me, to participate in these "elections". I had a group of 3,000 people, but it was not registered because of "criminal record".
Now some candidates have the opportunity to collect 100,000 signatures. Each of them has a background. However, we have a unique opportunity to break this ice and let Belarusians breathe easily.
I hear people who are disappointed or jealous of the glory of others. They warn us against participation in cultural projects. They offer to accumulate strength and anger. How long should we do this? How many people have died accumulating this anger? If we just keep watching the event from the outside, will anything national be preserved?
If we are not allowed to these "elections", we need to use every available option. We should utilise everything to break this ice! Some leaders step up and break this ice. Don't bother them. They need support.
I'm not agitating to collect signatures for those you don't like. It's your own business. I mean that we should seize the opportunity.
On Sunday, May 31, all regional centers and Minsk (near Kamarouski market) will hold pickets on signature collection at noon. It's a unique legal opportunity to get together, share our problems and manifest that Belarus is still alive.
I urge patriots who have faith, energy and strength. Seize this opportunity. Join the active part of Belarusians. Talk to the people. Get into touch. Take the lead.
If we do not seize such opportunities, we may lose all chances for Belarusian Belarus.
Friends, there is a unique chance. Dramatic changes are inevitable. After all, only on the patriots of Belarus can decide how the situation will develop. We will pave the way if we can. Let's stand together! Join in the struggle. The one who fights has strength. Only the fight can help us save Belarus.
Long Live Belarus!
Charter97.org urges everyone to observe social distancing.