Zmitser Bandarenka: People Got Tired Of Constant Lies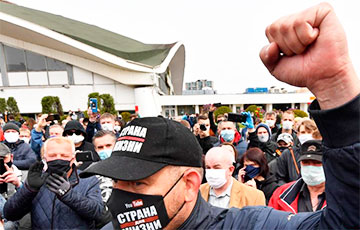 The country has come to life.
Coordinator of the European Belarus civil campaign Zmitser Bandarenka has answered the questions of the Free Russia Forum's YouTube channel. It is worth noting that the conversation was recorded before blogger Siarhei Tsikhanouski was arrested in Hrodna.
Charter97.org presents a transcript of the conversation with cuts.
- The Belarusian CEC has reported a new record: as many as 55 initiative groups have applied for registration this year. What do you attribute such activity to?
- Today Belarusians are in a state of agitated swarm. We can't talk about the Belarusian swamp now. This is associated with years of fatigue from Lukashenka's regime and from these brazen, cheeky actions of the authorities during the global pandemic and epidemic in Belarus. All these parades, subbotniks, this endless lies and absolutely inadequate behavior of today's first person. There is some activity from below, and the authorities are inventing a way on the move to fight this activity. They tried to bring everything to the point of absurdity and finally stopped at 15 registered ones.
- You have already noted that 15 groups have been registered, and we see quite a wide range of people willing to take the presidential chair. They are Lukashenka himself and, besides him, a former banker, a former official of Lukashenka, representatives of the systemic opposition, representatives of the non-systemic opposition who even held their own primaries. In addition, the protest candidates, who urge people to take to the streets, and even a folk metal musician. According to your predictions, how many people will get into the final ballot after all?
- I think it's not so important how many people will be registered, but what will happen in Belarus, who will win. It is still important whether the participants of this election campaign observe social distancing measures and some quarantine measures. We see that some candidates do it because at least they care about their own health, their own safety, and some, like Lukashenka, completely ignore them. People have already commented that they come to their apartments: "Are you for Lukashenka? Do you want to sign?" Without masks, without anything. Such persons just get kicked out. I think that's the most important thing. The amount of those who pass further isn't that important, I guess.
The main suspense is whether Babaryka is registered (I have no doubt that he will collect signatures), and whether the joint team of Tsikhanouski-Statkevich can collect signatures. There are indeed many people there who are ready for active protest action. The development of the situation in July and August will depend on it.
- You have already mentioned Viktar Babaryka, former head of Belgazprombank. Also, the second popular candidate is Valer Tsepkala, a former official of Lukashenka, who used to head the High-Tech Park. Some opposition representatives call them Lukashenka or Moscow appointees in order to create the illusion of choice, or to influence the Belarusian system. Do you agree with these doubts about Babaryka and Tsepkala? Whose horses are they?
- I never liked Tsepkala. He was seen in the team of Lukashenka, and in the team of Shushkevich in different years. He was making statements that Belarus would become an Asian dragon...
Babaryka, in my opinion, is a much more interesting figure. Although, the fact that a man has worked in Belgazprombank, a branch of Gazprom, for 20 years probably means something. I believe that people sometimes do illogical things or under the influence of new information they change, start taking risks and sum up their lives. Babaryka is my age, also born in 1963, I understand his psychology.
Only there is a question: is Babariko ready to serve Belarus and the Belarusian people, to burn bridges behind him just as Sannikov, Statkevich, Pazniak, Niakliayeu and other people did in their time? It will not work otherwise, because there is a battle of Good and Evil. It is possible for some time, as the convicts say, to "zigzag" a bit, but then the moment of truth will come. Maybe there is sacred fire in Viktar, and he will go to the end together with Belarusians who want changes in the country.
- In addition, Lukashenka will run for his 6th term. Last time the elections were recognized as fair and just in 1994. How do you think Viktar Babaryka will react to, I think, already settled falsification of the next elections, if he noted that the previous elections could not be falsified?
- I would like to say that Lukashenka is going to the 7th term, because the first term was in 1994-1996, when the Constitution of 1994 was still in force. From 1996 to 2020 he was already heading under the new Constitution with his expanded powers. I like the slogan "Lukashenka can have the 7th term only in prison". This is a fair result of his activity for all the time.
As for Babaryka, I guess I have already partially answered in the previous answer. I hope for the best. It seems to me that he is now appearing in the image of a professor, in the image of a wiseacre. Such an active wiseacre, who has got communication with the people. This is the worst thing that can happen to the System, whatever forces are behind Babaryka and whatever motives are driving him.
We know from history that, for example, the leader of Polish Solidarity, Lech Walesa, had different situations in his life too. At least, when there was a key moment in the Gdansk shipyard and he announced the end of the strike, women, including ethnic Belarusians, did not let him do it. "You have no right, we can't stop the strike for the sake of one shipyard, where we've achieved our goal, because the whole Poland hopes for us," - they said. So, more and more Belarusians will hope for Babaryka every day, if it is consistent. And it will affect his actions.
- Blogger Siarhei Tsikhanouski, who's appeared in the regions, making live broadcasts and communicating with people, also has his audience. At the time of filing documents with the CEC, he was given an administrative term, so his wife filed his documents instead. Now Siarhei is going on pickets anyway and supporting his wife. Thousands of people gathered at a Minsk square on Sunday to put their signatures. What do you think is Tsikhanouski's phenomenon about? What awaits him in the future, since the authorities are already using repression against him and his supporters.
- There have been election events in Minsk even bigger than that. Although, even for Sannikov in 2010, for whom there were queues initially, there were no such ones. This is an indicator that the Belarusians have woken up. The country has come to life.
Look at the Belarusians. Who knows, it's half a kilometer from the Yakub Kolas square to the Kamarouski market. They lined up in conditions of epidemic, coronavirus, during the plague. It's a Belarusian phenomenon. And they were standing there waiting for hours to sign. And even more I was shocked by a picket in Slutsk, where hundreds of citizens came to sign for Tsikhanouski's wife. According to Pavel Seviarynets, Belarusians are Slavic Germans in some ways, and they show with their discipline that they are against this power, they are ready to stand in line, they have been given permission, they will commit lawful actions.
This is for the time being. I will never forget how in April 1991, after the shootings in Vilnius, Riga, after the reaction that already reigned in the USSR, the most massive strike took place in Minsk, and hundreds of thousands of workers took to the streets. At that time, no one expected it. So I know, I saw for myself that the Belarusians can be very determined, very desperate.
They like Tsikhanouski, who was not afraid to say harsh things. Unlike the leaders of the opposition, whom many people know, he speaks the folk language more. He speaks the same way as the Belarusians speak in his live broadcast. This is somewhat similar to how Lukashenka acted in 1994, he spoke in way close to people from villages, small towns, who moved to big cities. It's the same today. Tsikhanouski is a man of the people, understandable, who is popular on Youtube, VKontakte, Odnoklassniki. So far, Babaryka is probably more of a person-Facebook, if we talk about information channels.
- I should add that Siarhei Tsikhanouski has invented the slogan "Stop-Cockroach" and a certain symbol - a home slipper - has appeared. People came out with this slipper, symbolizing that they also wanted to squeeze the cockroach.
- At one time I was an advertising director at the Belarusian firm "Dainova". As an advertiser, I can say that's brilliant. I know it wasn't even his team's idea, they just heard it and then felt that people need it today. That's what people like.
- You coordinate the European Belarus campaign. Which strategy do you think is the most advantageous, given the circumstances of the dictatorship. What to do: to participate in elections, boycott or take to the streets?
- We have boycotted parliamentary campaigns most often. Last year, European Belarus decided to participate actively in the parliamentary campaign, using legal opportunities as much as possible, in alliance with our other partners in the Belarusian National Congress, primarily with Narodnaya Hramada of Mikalai Statkevich.
Our activists saw that it is possible to stand on the street, to criticize the authorities very harshly, to speak out very harshly against Lukashenka and you will not get anything for it. Because it's a time of disobedience. Our activists said that the Belarusian society resembles a fire made of wet firewood, and our task is to light it.
The European Belarus campaign and Statkevich's campaign, Nexta's film "Lukashenka. Criminal Materials", the rally of blogger Nexta, Brest protests, rallies in Sviatlahorsk, Mahiliou... The Day of Honoring the Heroes of Kalinouski in Vilna - all this did not go in vain.
If there was no epidemic, I think that "European Belarus" could nominate its candidate. Maybe it would have been Iryna Khalip, maybe somebody else. It was difficult to make such a decision during the epidemic. We planned that there would be improvement in the epidemiological situation somewhere in July-August, and we were focusing on it. Now our people take part in what is happening in Belarus and prepare, I am not afraid of this word, for the decisive battle for Belarus.
But, indeed, the epidemic makes us think, among other things, about human casualties. I recently talked to Mikalai Statkevich. He understands perfectly well what's going on, understands perfectly well how much he risks. Both he and we call on our supporters, activists to observe distance measures as soon as possible, to wear masks and gloves.
This desperate determination of the Belarusians has already spilled out. People show that they will fight even amid the epidemic. It has happened so often in our history. There were battles, there were uprisings, there were fights, and there was an epidemic at the same time. Now the situation is somewhat repeated. The only thing is that medicine is much better now.
- The Kremlin, of course, is now also watching the election campaign in Belarus. What do you think will be more profitable for Moscow: the seventh term of impractical Lukashenka or a new president, which may be easier to negotiate with?
- I think that different Kremlin towers will support different candidates. It is hard for me to imagine that Moscow will not support a man who has been running a branch of its main specialized enterprise and specialized bank for 20 years. I'm talking about Babaryka. It could be a figure around whom Russia and the United States, or even the entire West, might have agreed for a transition period. Lukashenka has deceived Putin many times already. Everyone can see his absolute inadequacy. By and large, he only livens up when it comes to hockey, biathlon, etc. As for the main issues that interest Belarusians, he is talking nonsense. In Russia, they understand it, too.
The Belarusian nomenclature also understands it, because there is a very strong stratification in Belarus. People hate officials, and for Belarusians the symbol of this collective farm riot is Drazdy. Maybe for the Belarusian nomenklatura such a person as Babaryka, rich, with a house, which is not small even by Drazdy's standards, can become an acceptable figure.
We, Belarusian patriots, can see it all, but we believe that the first step is to break the Lukashenka system. The second step is to hold free elections. I think that in this situation of crisis, pandemic, lack of resources, Russia may go for such an option. But yes, the national democratic forces will carry on their work, they will communicate with the people and the people will speak out. And Moscow will probably try to pursue its policy.
At the same time, I would not consider Babaryka to be someone's puppet. We know that new leaders often appear at turning points of history, and people who are already experienced and famous perform such actions that surprise so many of us.
The most important thing I would like to say is that I can see burning eyes and, at the same time, cold determination in all the teams - Tsikhanouski, Babaryka's and others. People make decisions, go on vacation, invest their resources, time and competence. We see the country in motion.
The best support for Siarhei Tsikhanouski, the blogger of the "Country for Life" Youtube channel, who was arrested in Hrodna, is your presence at the pickets that are held all over the country to support him.
The Charter97.org website urges everyone to observe the measures of social distance.