Aisha Jung: Unprecedented human rights crackdown in Belarus
2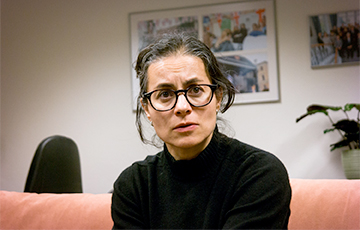 Amnesty International senior campaigner spoke to MEPs.
Online-event "Time to change. Solidarity with people of Belarus" took place in the European Parliament on 10 July.
Website Charter97.org provides a transcript of the speech made by Amnesty International senior campaigner on Belarus Aisha Jung:
— Amnesty International is unwavering in its commitment to protecting and promoting the rights to Belarusian citizens, particularly in this time when we can confidently say the crackdown on human rights is unprecedented in its scale and severity. The authorities in Belarus are truly creating a human rights dystopia in the heart of Europe.
We are in close cooperation with our valued partners. And we will continue to be closely working with them throughout this awful episode.
We are closely following events and we engage at all levels and with all means we have. We are issuing public statements, urgent actions for individuals believed to be at imminent risk. Media and social media output to document the egregious and brutal human rights violations currently taking place.
We will be engaging our global activists to campaign and lobby their governments around the world, particularly within the EU and to pressure the Belarusian authorities to abide by their human rights obligations, but also to know that in any event the world is watching.
We will be lobbying at IGO level. And today we have issued a statement at the interactive dialogue with the special rapporteur on Belarus at the Human Rights Council focusing on current events. And a written brief will follow, which will also include our continuing calls for the abolition of the death penalty and the release of children, sentenced to lengthy prison sentences for minor, nonviolent drug related offences under article 328.
With regard to the current clampdown we are open and willing to combine our efforts to optimize impact with other international human rights organizations and assign the recent letter to the Human Rights Council from a collection of local and international human rights organizations.
Our calls are as follows. We are calling for all prisoners of conscience who are facing trumped up criminal charges to be released immediately and unconditionally. We are calling for all those detained and charged under the administrative code to be released immediately and unconditionally. As we've heard today, they are in their hundreds.
We call on Belarus to stop this current and brutal wave of detentions and arrests, including using gangs of unidentified men in plain clothes and unmarked vehicles, and fully respect the rights of freedom of assembly, association, and expression.
Until then rights of all detainees must be respected. And we are gravely concerned by widespread reports of harsh conditions that detainees are being subjected to. They are denied access to their lawyers, held in solitary confinement in cold cells with no running water, no mattresses and often with no contact with their families, and refused parcels and letters.
We are also aware that politically active women and women connected to political activists are being targeted with forms of harassment and intimidation, specifically tailored to their vulnerabilities as women. These include threats to have their children taken into care, which is not a new tactic in Belarus, and also threats of sexual violence. We call on this to stop immediately and for Belarus to end the sinister wave of repression and fulfil their human rights obligations under international human rights law.
None of us are Free until we are all Free. Long life Belarus. And also long life Belarus in Europe.