Metropolitan Tadevush Kandrusevich: Elections Must Be Fair, Free And Legitimate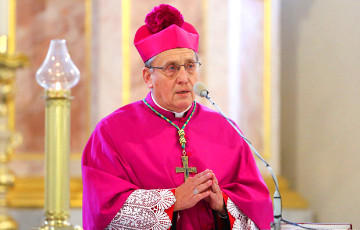 The Head of the Catholic Church of Belarus made a statement at the celebrations dedicated to the icon of Lady of Budslau.
Catholic Archbishop Tadevush Kandrusevich, Metropolitan of Minsk and Mahiliou, during the Mass in Budslau (Minsk region) on July 2nd, where the traditional celebrations dedicated to the icon of Lady of Budslau, took place, touched upon the subject of the presidential election in Belarus, telegraf.by reports.
"From the Gospel we know that Jesus has calmed the storm at sea and told the apostles not to be afraid. We also should not be afraid and wide open the doors of our hearts to Jesus so that he could be in us and in our people, who choose their future. The ship, whose name is Belarus, is today on the sea troubled by social and political waves. The elections that are before us should be fair, free and legitimate. They should be held in a spirit of mutual respect between various social and political forces.
The principle of free will laid down by the Creator in human nature provides for the possibility of free choice, which will contribute to the consolidation of our society, which is so necessary in our time. According to the teachings of St. John Paul II, the unity should manifest itself in heterogeneity for the sake of achieving the commonwealth for our common Motherland, whose name is Belarus.
Therefore, let us not be afraid of difficulties, for Jesus is with us. If we trust him, and if different social and political forces act in accordance with the spirit of the Gospel and care for the commonwealth of our country, then Jesus will help different (different - it is natural) us to be one people, mutually loving and respecting brothers and sisters, and will calm down the storm".