New Rally Of Solidarity With Belarus Held In Amsterdam
1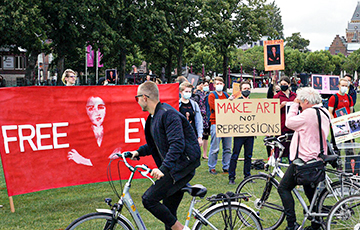 The Belarusians have held a performance in the center of the Dutch capital.
The performance participants demanded the release of political prisoners in Belarus. Belarusians used the painting "Eva" by Belarusian artist Khaim Sutin as a symbol.
The painting is called the treasure of Belgazprombank's corporate collection: it was purchased at Sotheby's auction for $1.8 million in 2013. This is the most expensive painting in Belarus. The arrested candidate for the presidency of Belarus, Viktar Babaryka, then the head of the bank, had personally participated in the auction, and he was very huffy about the arrest of "Eva," as his colleagues say. The collection of Belgazprombank has been collected since 2011. There were no questions from the tax authorities to the bank about the purchase of paintings, the necessary customs duty was paid when importing them.
Participants of the Amsterdam rally have sent pictures to the editorial office of Charter97.org.