Photo Fact: White-Red-White Flags Near Louvre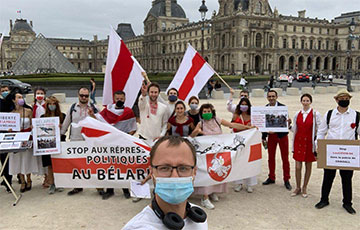 France is with us.
A solidarity rally with the participation of Belarusians and not indifferent locals took place near the Louvre in France.
The participants surprised the French by the fact that Mark Chahal is ours, told the story of Belarus, as well as offered to sign a petition for the release of political prisoners, the My Country Belarus telegram channel writes.
Many tourists from Belarus, truckers from Belarus, Russians, Poles and citizens of other countries were coming up. The participants were also distributing the information materials, prepared for the rally in advance.