"Money Stolen From People Will Be Found Within A Day After Change Of Power"
36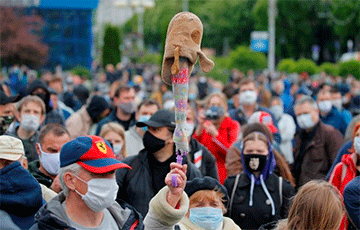 Lukashenka must be held accountable by law for what he has done.
A reader of the Basta telegram channel spoke about how the country will change after Lukashenka's gone.
"I'm glad that smart young people, who want and must have a decent life, are growing, - the reader writes. - When I graduated from school in 1978, the older generation did not take us seriously. You may know about it. And yet my generation has gone through many terrible things.
Afghanistan. The collapse of the USSR. The '90s and many other things. It's okay, we stood up. We gave birth to children. I am proud of the generation of young people. The cockroach has been everywhere but the detention center. We must help him with that. In a day, we'll get back the money that has been stolen from us. They'll bring it, like he used to say about his opponents.
I'm tired of him. He has ruined the lives of more than one generation of Belarusians. Let him be held accountable!"
Download and install the Telegram messenger on your smartphone or computer, subscribe ("Join" button) to the Basta channel and create the history of free Belarus.