Vladimir Spivakov Refused Order Awarded By Lukashenka
74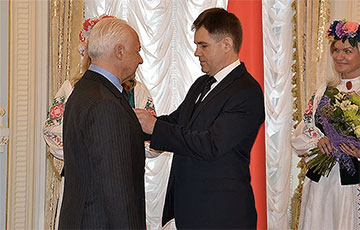 The Russian conductor says he is ashamed to have it.
Famous Russian conductor and violinist Vladimir Spivakov has refused the Order of Frantsysk Skaryna, which was awarded to him by Aliaksandr Lukashenka, Kommersant writes.
- Today obscurantism, tyranny, violence and endless examples of extreme cruelty, with which the authorities suppress the will of numerous citizens across the country, rule supreme on your "holiday," -Spivakov writes in an open letter to the president. - Today, my heart beats in unison with the people of the Republic of Belarus, who are rightfully demanding basic rights and freedoms, including the right to peaceful protests. Therefore, in this situation I am forced to refuse the Order that you have awarded me earlier. I am ashamed to wear it, as it is related to your reign.
Spivakov, who has repeatedly performed in Belarus, was awarded the Order of Frantsysk Skaryna in 2014.
Over the past ten years, the festival "Vladimir Spivakov invites" has been held in Minsk.