Lukashenka's Nightmare: More "Black Swans" Flew In
12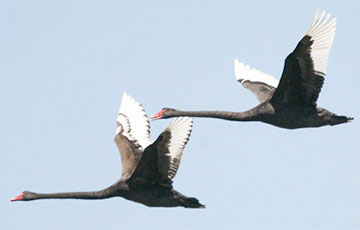 Reputational blows are putting the regime in the position of a "permanent pariah".
A few more "black swans" for Lukashenka have flown in, writes the CYNIC telegram channel.
One of them is the Nuremberg hearings. The preparation of the Tribunal at this stage is a reputational and at the same time international pressure. "The trial" is only being prepared at the moment, but the factor of the chance to be brought to the tribunal, together with the "double sanctions" not only contributes to the switch of Western and Eastern partners to other markets, but it also completely blocks the possibility of attracting new economic partners.
Yet, the most important thing is the current layout of the international environment with regard to the case of Belarus (China, India, Russia, Venezuela).
Loyal dictatorial regimes (China) are moving to the side of Western diplomatic representatives, because the risk of being blocked in the "Belarusian swamp" is seen as extremely high.
In addition, due to Lukashenka's efforts, the economic partners consider staying in Belarus to be unsafe for employees and business itself. The new tax code displeases even the most loyal and pragmatic representatives of the European market, while the "main European investor" - Austria - demonstrates extreme legal nihilism towards the Belarusian regime.
In order to level the total collapse, Lukashenka is trying to turn the country into a "drug lobby", but he is being strongly restrained by the "Sochi bunker", since drugs tend to expand by the principle of "zoning", not the "pipeline", so drugs will cover Russia (the border is conventional), not Europe, if Lukashenko takes this step.
The second thing is that specific documents have been sent to "Interpol" in order to disconnect Belarus from the method of international pressure on the Belarusians outside of the concentration camp.
Again - the process is lengthy, but the factor of POSSIBLE disconnection itself results in a sharp decrease in cooperation at the level of international legal verticals. These gradual reputational blows are putting the Lukashenka regime in the position of a "permanent pariah".
The undermining of the economic bloc leads to disunity in the ranks of the "top," attempting to re-hide money and thus making it more visible to international bodies. To this end, rumors were spread via certain contacts along the "channels ", thanks to which the "chain of wallets" gradually came to the surface. A lot of chains were hidden in the Pandora's Papers, but the "slight tremor" of the economic "hidden" elite is registered. Any movement in the "shadow market" is also being uncovered, so "burying funds" will not work.
The latter is Lukashenka's real nightmare. It turns out that not only fans of the cornball codpiece maam know how to disorient with "rumors," but also the Western bodies of special international response.