Soon Entire Belarus Will Join Strike
3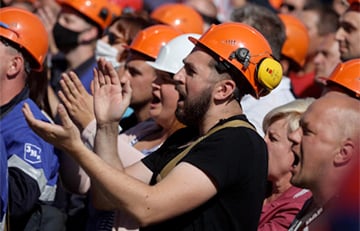 Who of the prominent Belarusians have supported the demands of the workers?
Belarusian politicians, public figures, journalists and athletes have expressed solidarity and supported the ten demands of the Belarusian Association of Workers.
"We call on the government of the country to start implementing them immediately to resolve the political and economic crisis. If the demands are not met as soon as possible, citizens can exercise the right to strike," said the signatories.
Charter97.org decided to find out which famous Belarusian supported the demands of the workers.
Sports stars
Three-time world Sambo champion Nastassia Arkhipoava, Olympic silver medalist Natallia Leshchyk, Olympic swimming medalist, head of the Belarusian Foundation for Sports Solidarity Aliaksandra Herasimenia, European champion in athletics, Olympic champion Andrei Krauchanka, world and European champion in Sambo Stsiapan Papou, Master of Sports International Class in athletics Krystsina Tsimanouskaya.
Media representatives and bloggers
Head of Zurb and Malanka-Media platforms Pavel Marynich, editor-in-chief of Charter97.org Natallia Radzina, journalist Andrzej Pisalnik, blogger and author of Real Belarus telegram channel Artem Shaporau, blogger and author of Belarus for Change telegram channel Mikalai Maslouski.
Cultural figures
Opera singer Marharyta Leuchuk, film director Yury Khashchavatski, poet and former presidential candidate Uladzimir Niakliayeu, singer and actress Veranika Kruhlova.
Opposition leaders
Leader of the European Belarus civil campaign, presidential candidate Andrei Sannikov, member of the Presidium of the Coordinating Council, head of the National Anti-Crisis Management Pavel Latushka, former presidential candidate Valer Tsepkala and his wife Veranika Tsepkala, coordinator of the European Belarus civil campaign Zmitser Bandarenka, member of the Presidium of Narodnaya Hramada Veranika Mishchenka.
The former chief state sanitary doctor of Minsk Ivan Vaitovich, granddaughter of the first Belarusian leader Stanislau Shushkevich, co-founder of the Belarusian Youth Hub Stanislava Hlinnik, political analyst Dzmitry Balkunets, former employee of Lukashenka's administration Anatol Kotau, executive director of the Belarusian Foundation of Sports Solidarity Aliaksandr Apeikin and many others have also signed the statement.
The appeal remains open for signing here.