700 Kurds Demanded From Lukashenka Regime To Bring Them Home
6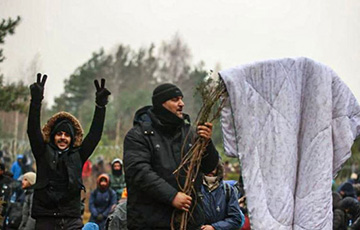 The Kurdish authorities have received applications for the voluntary return of migrants from Belarus.
About 700 applications for the voluntary return of migrants, stuck in Belarus, have been received by the Kurdistan Regional Government (KRG). This was announced by KRG spokesman Jotiar Adil on November 24, the Kurdistan portal writes.
"700 immigrants have registered their names to return voluntarily to Kurdistan," the spokesman said at a press conference held after Wednesday's cabinet meeting.
He also noted that the KRG continues to cooperate with the federal government of Iraq, European countries and various organizations to solve the problem of migrants stuck on the border between Belarus and Poland.
Earlier, on November 18, an Iraqi airline had evacuated 430 migrants. A second flight from Minsk to Baghdad was scheduled for November 25, but it is marked as cancelled in the schedule of the Minsk airport.
According to Polish estimates, there are about 4 thousand migrants on the Belarusian-Polish border.
The situation at the Belarusian-Polish border escalated on November 8. Then, there appeared video in the Internet, showing a large convoy of migrants on neutral territory near the checkpoint "Bruzgi," on the Belarusian-Polish border. According to the State Border Committee, their number exceeded two thousand people.
The migrants did not reach the border crossing 300 meters and turned to the woods and set up a camp there. They spent a week in the woods on the Belarusian-Polish border, and then on November 15 they left the spontaneous camp and gathered at the Bruzgi border crossing point. According to various estimates, there were about 3.5 thousand people there.
On November 16, the migrants tried to break through the Belarusian-Polish border. They threw stones at Polish law enforcers.
Later Belarusian authorities accommodated the migrants in a logistics center near the Bruzgi border crossing.