Attempts to Break Through the Polish Border: How the Iron Division Reacts
1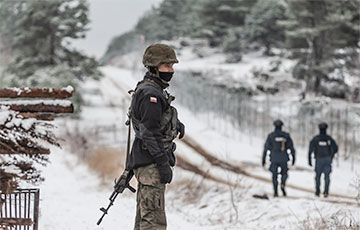 Military personnel works on several operational lines.
"We are noticing attempts by migrants to breach the Polish-Belarusian border in Lublin voivodeship," said Major Przemysław Lipczynski, spokesman for the 18th Mechanized Division. He assured that the border is secure and sealed, TVP reports.
For almost two months now, the Polish 18th Mechanized Division named after General of the Army Tadeusz Buk has been supporting the actions of the Nadbuzanski border detachment on the Polish-Belarusian border in the Lublin Voivodeship. This is a 180-kilometer stretch of the border, which is mainly the Bug River.
"This is a great relief for us in guarding the border because the river is a barrier that is difficult to cross. In addition, the Bug is a very dangerous river with a double bottom and eddies," Major Lipczynski noted.
Answering the question about the number of servicemen who participated in the protection of the Polish-Belarusian border in the Lublin region, he noted that these are sufficient forces.
"We have rear troops - as many as are now needed to complete this task. At any time, we are ready to increase the number of troops, if the need arises," he replied.
According to him, the servicemen work on several so-called operational lines. The first is located in the area of the Polish-Belarusian border near Bug, where soldiers work with border guards to prevent illegal border crossings. The next lines of operation are deep in the emergency zone.
"There are our so-called Rapid Reaction Forces, which are in constant readiness to support if there is an attempt at a massive illegal breakthrough of the border. Rapid reaction forces are also needed in case of crossing the border in several places at the same time," added a spokesman for the 18th Mechanized Division.
Soldiers are watching the Polish-Belarusian border from land, water, and air. To monitor compliance with the inviolability of the border, the division uses, among other things, flat-bottomed boats and unmanned aerial vehicles with thermal imagers. Thermal imagers and night vision devices are used for night surveillance during the foot and motorized patrols.
"There are places where we are also installing a barbed wire engineering dam. Mainly on the Bug River, where there are fords or places where tributaries flow into the river, where one could swim across the border. Currently, there is no need to place a dam along the entire length of the border in the Lublin Voivodeship since the Bug River is a natural barrier," said Major Przemyslaw Lipczynski.
He added that permanent posts have also been placed at all railway and road bridges on the Bug River.
The representative of the 18th division also said that there were illegal border crossings in the Lublin Voivodeship, for example, attempts to swim across the river or swim on pontoons. In October, a 19-year-old Syrian drowned, who wanted to move from Belarus to Poland via the Bug.