Propagandists Shocked By How Much Money Insane Lukashenka Spent On Migrants
45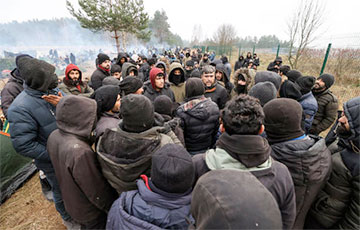 Belarusians can only dream of such luxury.
Representatives of the pro-government media found out that migrants, in addition to hot meals, also receive daily dry rations: three Rolltons, two packets of natural milk, two cans of premium stew, two cans of canned fish, a stick of sausage, a loaf of bread, one pack of cookies and waffles. Also fruit - pomegranate.
Belarusians can only dream of such support. According to rough estimates, one dry ration costs about 40 rubles. And if we multiply this by at least two thousand migrants who are there, we get almost 81 thousand Belarusian rubles a day. And that's not counting hot meals, writes the BOR Telegram channel.
Well ... if before there was a period when the insane Lukashenka dragged everything into the house, now he is literally giving away our money to help "tourists".
Think about it the next time your bonus is cut, or you are forced to chip in to help migrants. Will these authorities also ever take care of you?