Strike, Belarusian: What's Going On At Enterprises
14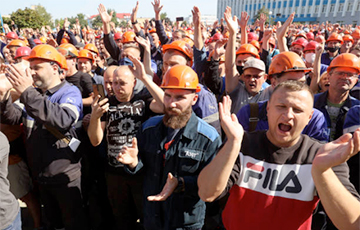 There is more and more information about mass "mopping up" at enterprises.
Readers of the Belarus of the Brain telegram channel tell about the lawlessness going on:
"Polatsk Power Grid. Today three people have been fired and the rest have been told to get ready. There are about a hundred people in total on the lists".
"The staff mopping up continues in Krychau at the Cement Plant. They took my husband straight from work in the morning, took away his phone, and locked him up for 24 hours".
"At the Minsk Regional Institute of Education Development, there have arrived lists of those who put their signatures for candidates last spring. They were called to the rector and told to write at their own request. The list is big, no less than 40 people".
"They fired me in one day at Homelobltseplaset. I worked under a contract for the time of my maternity leave. They took the woman off the maternity leave for 1 day, fired me, and she went back on maternity leave. When they were firing me they were rude, speaking from the position of power and authority".
"At Belnipienerhaprom, two lists came in last week: the first was a list of four people for compulsory dismissal until 2022, the second was a list of 80 people with whom "preventive" conversations were conducted. The lists also came to Belenerhasetprayekt. I know for sure that several people are being fired".
"Mass dismissals at the Academy of Fine Arts, which, I would remind you, used to be a creative university with unique specialists, some faculties employ literally a few people, some specialties have as many as 5 students, and even they, given the situation, take out their papers".
"Dismissals based on the lists of "signatories for Babaryka" in the Main Department of Consumer Market of Minsk City Executive Committee. Acting director Yury Natychka calls one by one and presses the employee to sign at your own request. To those who refuse, he promises to draw up a report on insubordination to the police and send them to 15 days in jail".
"Those who have been under the administrative Article 23.34 are fired in Brest educational establishments (kindergartens, schools).