Polish Border Guards Detain Chechens Attempting To Break Through Border With Belarus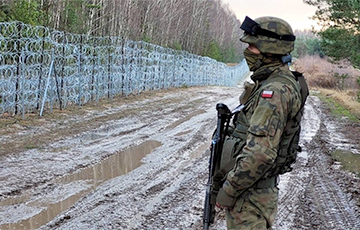 Belarusian security officers blinded the Polish military with lasers and flashlights.
Over the past day, Polish border guards recorded 116 attempts by illegal migrants to break through the border from Belarus. At one of the sites, the groups crossed the border twice with the support of the Belarusian services, the Polish border service reported on Twitter on Tuesday, December 7.
For example, at a section guarded by a border post in Czeremsza, groups of 30 people crossed the border twice.
"25 decisions have been passed on leaving the territory of the Republic of Poland," the message says.
As РАР clarifies with a reference to the representative of the border service Anna Michalskaya, among the migrants who crossed the border as part of the two groups were not only Iraqi citizens, but also Russian citizens of Chechen nationality. They were detained and taken back to the border.
At the same time, the Polish border guards were blinded with lasers and flashlights from Belarus.
Important to note, on November 8 Lukashenka's regime staged a large-scale provocation on the Polish border. Thousands of migrants under the control of the Belarusian special services stormed the Polish border. The Polish side reports that up to 10 thousand illegal immigrants may take part in the next assaults of the border.
On November 15, the Belarusian military drove the illegal immigrants under escort from their camp on the border with Poland to the Bruzgi-Kuznica checkpoint.
On November 16, the migrants set out to storm the Polish border.
After that, the migrants were placed in the Bruzgi logistics center at the border. Polish intelligence reported that the Belarusian security forces turned the Bruzgi center into a base for migrant attacks on Poland.
On November 26, Lukashenka visited the camp of migrants to raise them for a new assault on the Polish border.
On December 1, Belarusian special services fired at the Polish border town of Terespol. The shelling destroyed the lighting masts on the border with Belarus.