"There Are Cameras, Cameras!": Residents of the Square of Changes Published a Video of Police Hitting A man in Elevator
13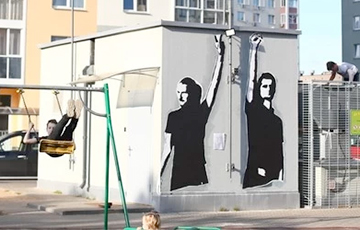 Punishers are afraid of their crimes being recorded.
Residents of houses from the Square of Changes shared a video from surveillance cameras on November 15, when the security forces harshly dispersed those gathered for the rally in memory of the deceased Raman Bandarenka, tut.by reports.
One of the videos shows an elevator car in which the security forces are traveling. When the elevator stops on one of the floors, one of the security officers aims with a pistol at those entering the cabin, but seeing that they are theirs, he puts the weapon away. The elevator stops again, and people in civilian clothes lead the guy into the car. One of the security officials tries to get the guy to talk, but he keeps silent. At this moment, one of the security officers in civilian clothes gives him a slap in the face: "Answer the questions!" Others scold him: "Cameras!", implying that the elevator has a video surveillance system and their actions can be recorded.