Yauhenia Pasternak: Let's Say "We Won!" and Go Hug in the Streets
4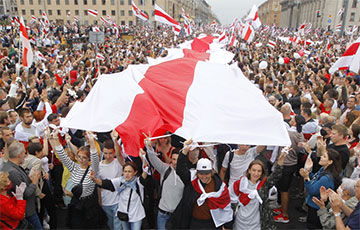 The authorities are trembling before the second wave of protests.
The well-known Belarusian writer Yauhenia Pasternak spoke on Facebook about the situation in Belarus on the eve of Freedom Day:
- So. Dry statistics of the National Bank: in February, the country's gold and foreign exchange reserves decreased by $ 88.9 million and amounted to 7.1 billion in equivalent.
The critical mark is $ 6 billion, up to a little over a billion.
Interestingly, whoever you talk to, everyone is sure that there is no gold and foreign exchange reserve for a long time.
The Ministry of Economy, however, consoles us. It says that this year Belarus will start working mechanisms that will improve the investment climate in the country, and it will become no worse than that of its neighbors.
The authorities, poor, are trembling before the second wave of protests. They can be understood, they have nowhere to retreat at all.
After the unification of the students, the strike committees united. Hrodna Azot, Naftan, and BMZ.
Active turbulence continues around Salihorsk. Tsikhanouskaya spoke with the general director of Yara International and called for pressure on Belaruskali.
Artsiom Praskalovich, a former employee of Lukashenka's administration, has joined NAU. He will oversee the issues of constitutional construction and law enforcement, which he has been involved in for the past 11 years.
The cadres seem to flow slowly. But the main thing is that the process does not stop.
The US State Department has awarded Maryja Kalesnikava the International Women's Courage Award.
And at the Berlinale, the world premiere of the documentary "Courage" about the life of three actors during the August protests in Belarus took place.
The film's director Alexei Poluyan is from Belarus, but lives and works in Germany.
And much more will be shot and written about our August!
And we do not accept half measures and will finish writing these chronicles only when we win.
We will write: "We won!" and go hug on the streets.
Long live Belarus!