Authorities Banned Use Of Budslau Cathedral Because Of Fire
6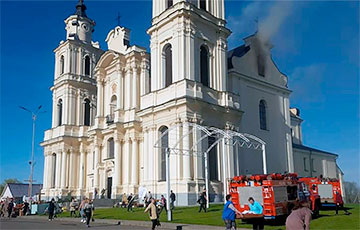 Services in the cathedral have been suspended.
On May 12, the Apostolic Nuncio to Belarus, Ante Jozic, visited the National Sanctuary of Our Lady of Budslau, which had been damaged by fire the day before. This is reported by Catholic.by.
In Budslau, the Vatican diplomat met with the chairman of a special commission on the elimination of fire consequences, Bishop Aliaksandr Yasheuski, Father of Budslau parish, Priest Dzmitry Dubovik, and volunteers, who help to maintain order at the scene.
Bishop Yasheuski informed Nuncio Jozic that an investigation is underway to determine the causes of the fire in the cathedral, so the state authorities have completely banned the operation of the fire-stricken building. It is not yet possible to resume services in the building.
The Nuncio was told that volunteers and local parishioners have already cleared the aisles to allow unhindered access of officials to the scene. In addition, a specialist for the immediate dismantling and preservation of the unique eighteenth-century organ, which had been exposed to water during the extinguishing of the fire, has arrived in Budslau.
Nuncio Jozic assured of Pope Francis' solidarity with the Belarusian believers and of his prayer for the people of Belarus. He also promised his help and support in restoring the basilica, damaged by the fire, and reviving spiritual life in it.
We remind that the Catholic bishops called upon the faithful to help in restoring the church. Similar appeals in social networks were spread by believers. As a result, during the day, Belarusians transferred more than 40 thousand rubles to the charitable account of the Catholic society "Caritas" of Minsk-Mahiliou archdiocese.