Alexander Starkevich: Pratasevich Cooperates With the Authorities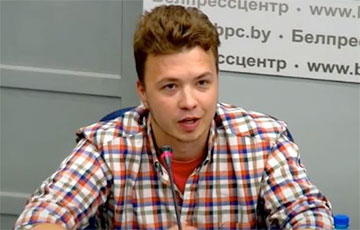 The passenger of the Athens-Vilnius flight was not necessarily subject to torture.
The obvious conclusion from Monday's press conference is that Raman Pratasevich cooperates with the authorities, says journalist Alexander Starikevich in an article on the Salidarnasts website.
Moreover, the famous passenger of the Athens-Vilnius flights was not necessarily subject to torture. Pratasevich might have a choice:
- either you and your girlfriend get ten years in prison;
- or you eat out of the hands of the special services, and then you will both soon be pardoned and, as a bonus, you can get a place in His Majesty's new "constructive" opposition.
How many in this situation would choose the first one?
So I don't recommend wasting time and emotion on condemning Pratasevich. At the same time, attempts to continue presenting the blogger as a "hostage" who makes his statements at gunpoint look very naive.
The Komsomol fervor at the press conference shows that Pratasevich joined in the game with enthusiasm. Most likely, the man simply switched sides. It's a common thing.
If such a thing had happened to (God forbid) Pavel Sevyarynets, for example, I would have been surprised. But when some quite random people in politics turn out to be defectors, one should hardly be surprised.
So, the romantic wishes to Pratasevich to "hold on" are a bit overdue. You just need to accept the new reality, not deny it. There are at least two reasons:
1. It's likely, the show on June 14 was not the last. Using him as a "banner," the opponents of the government are simply setting themselves up for another strike.
2. There are many people behind bars right now who deserve attention. However, the focus has been disproportionately on one person. Yulia Slutskaya, Viktar Babaryka, Volha Zalatar and many, many other people have been overshadowed by Raman Pratasevich. Let's fix it.