Belarusian Cigarettes Were Tried to Be Sent to Greece via Novorossiysk
4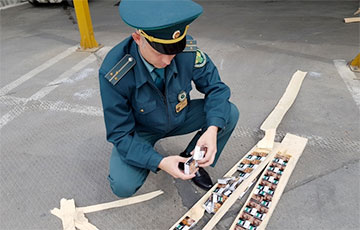 The smuggling was in a container with 16 tons of lumber.
158 thousand packs of cigarettes were intercepted by Russian customs officers in Novorossiysk. The contraband was in a container with 16 tons of lumber, the press service of the Federal Customs Service of Russia reports.
The cargo was cleared for export to Greece. Cigarettes of the "NZ" brand of Belarusian production with Belarusian excise stamps were hidden inside three-meter edged boards along the entire length. The market value of the seized tobacco products exceeded 20 million rubles, the press service of the FCS said.
The investigation revealed the place where the caches were made — this is the Smolensk region. The shop for the "packaging" of contraband was identified by employees of the Smolensk customs. There they confiscated tobacco products, woodworking machines, beams, carpentry glue, as well as blanks for caches and a ready-made cache with contraband goods inside.