Church Will Survive These Thugs As Well
11
Iryna Khalip
7.10.2022, 14:23

19,936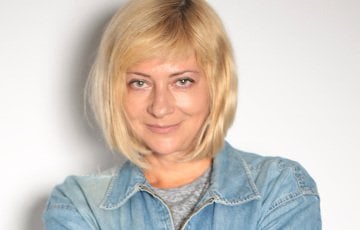 In the past, thugs smashed telephone booths, and now they smash temples.
The Red Church has been one of my favorite buildings in the city since childhood. Then it was the House of Cinema. My friends and I listened, retold each other and made up legends ourselves, because such a beautiful red building with a tower could not but be the object of myth-making. Of course, we had no idea either about Vaynilovich, who built it, or about Symon and Alena, whose name this church bears. With pleasure we whispered to each other that at first it was built of stone of a completely different color, and then the customer did not pay either the architect or the foreman, and then the church turned red with anger. I really wanted it to certainly have a terrible or at least mystical story.
Only many years later I realized that this is a very kind temple. It did not reject those who came there instead of believers: first, the Polish theater in Minsk, then the film studio, then the House of Cinema. The cinema house became a cult place in the city: there was an excellent bar, a real smoking room, and an aura of mystery, because it was there that foreign films were shown. Yes, and the Soviet ones, which were not released for hire, were sometimes shown for filmmakers. And they already dragged everyone they could to the shows, both relatives and friends. And everyone felt nice and comfortable there. There are many stories about how the houses did not accept those who came after the expulsion of the rightful owners — constantly burning light bulbs, the sounds of footsteps and voices that frightened the unsuspecting new settlers, constant accidents with electricity and water. And the church did not frighten anyone and did not try to expel: it stood calmly, giving shelter and warmth to the filmmakers and their friends wandering into a glass, and even reacted condescendingly to the antics of those who had gone too far. Bricks did not fall on any of the atheists, the sessions were not disrupted, the film was spinning, the barmaid poured on credit.
And in the late eighties, the House of Cinema became the center of the Belarusian revival. I was at that congress of the "Martyrology of Belarus" in October 1988, which resulted in the establishment of an organizing committee for the creation of the Belarusian Popular Front. We, students of the faculty of journalism, for the first time ran to the Cinema House not to a bar or to a film show, but to look at Zianon Pazniak. If possible, even come close. But what we saw there, we could not even imagine.
Zianon Pazniak, with his completely medal-like face, as if cast in metal, was beautiful. He made speeches the audience wanted to listen to endlessly. He spoke about Stalinism. About the need for a public trial of Stalin. About the revival and statehood of the Belarusian language. Vasil Bykau and Nil Hilevich were also there, and spoke. And then Ales Bialiatski, unknown to anyone. And many more people, without whom today it is impossible to imagine the modern history of Belarus. If Mikhail Gorbachev and Alla Pugacheva had entered that hall in an embrace, people would not even have turned around — everyone was listening to Pazniak. And they believed that now, here, in this red old building, a new Belarus begins. Actually, that's how it was.
Just two years later, the church was returned to believers. But this good old house in its history has sheltered so many — believers and atheists, villains and saints, geniuses and mediocrity, drunkards and madmen — that it could not close its doors to those who are outside the confession. Priest Zavalniuk opened a theater hall in the temple, and for many years the one-actor theater Znich with its kind angel Halina Dziahileva worked in this amazing hall. Travelers were gladly received here and guided tours were organized for them — of course, free of charge. There was a library where young poets performed. Here they helped in the rehabilitation of drug addicts and alcoholics. Musical and literary evenings were held here. Having become a temple, this house remained a place where friends and like-minded people could meet.
And then relatives of political prisoners began to gather near the red walls. They came to pray for their loved ones. Or simply — pray for Belarus. Then arrests began. And now the temple is simply taken away from believers. Officially it's "temporary suspension", but they have already demanded to seize the Church.
An amazing thing: in 1990, the Bolsheviks returned the temple to believers. Back in the USSR, but already at the height of perestroika, when the first big money appeared, and there were enough people who wanted to open a nightclub, a bank or a currency restaurant in this posh building, and they could carry cash to any state institution in suitcases. But the last party officials resisted the temptation, and restored historical justice. But these current officials like to destroy everything. This is not a fight with Paznyak and the Belarusian language — they destroy everything that comes to hand, be it churches or schools, just for fun. In the past, thugs smashed telephone booths without any purpose. Now they have shoulder straps and briefcases, but nothing else has changed.
And yet I do not worry about the Red Church. It survived world wars, revolutions, the fall of states, communists and fascists. Don't you think it won't survive these thugs?
Iryna Khalip, exclusively for Charter97.org