Unknown Aircraft Strikes Wagner PMC Base In CAR
11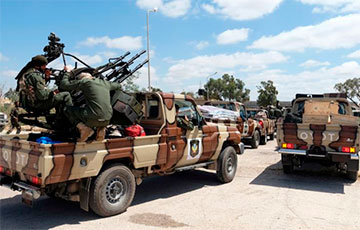 The plane was flying with its lights off.
A military facility associated with Russian mercenaries from the Wagner PMC has been hit in the Central African Republic in the town of Bossangoa.
This was reported by RBC-Ukraine, citing a statement by the press service of the CAR government.
The release notes that an aircraft flying from a neighbouring country attacked the camp of soldiers in the north of the country on Sunday night, along with their Russian paramilitary forces, which the CAR calls "allies", in particular mercenaries from the Wagner PMC group.
The African government says the plane dropped explosives on the town of Bossangoa, "targeting the base of our defence forces, our allies, as well as a cotton factory". There were no casualties as a result of the bombing.
An investigation into the airstrike has been launched to "identify those responsible" for the attack.
"The explosives caused significant material damage," the government said in the statement.
Etienne Ngeretum, regional director of water and forestry in Bossangoa, said in a comment for AFP that the plane "bombed the Russian base at 2:50am, we heard at least four bombs, but as it was night, we did not see the plane, which had no lights" and was flying quietly, Le Monde reported.
The official said two bombs exploded in his garden, which is adjacent to a Russian-occupied cotton factory, and after the blows he "found nails and pieces of iron on the roof of his house".
The town's mayor, Pierre Denamger, also confirmed the airstrikes by telephone to the French news agency.
"It was a plane without lights, which we have not been able to identify. The target was a cotton factory which the Russians and the military use as a base, there is not much damage," he commented.
Tensions between Chad and the CAR
This bombing in CAR was the first case of a suspected enemy aircraft attack since the start of the civil war in 2013. Chad borders the country to the north and the town of Bossangoa was, until recently, in rebel hands, while Cameroon borders the Central African Republic to the west and Sudan and South Sudan are very far to the north-east.
It is noted that relations between Chad and the Central African Republic have been extremely tense in recent months. Bangui has criticised N'Djamena in particular for allowing armed groups to use its territory as a back-up base, and for giving asylum to their main leader, former president François Bozizé.
Late last May, Chad also accused the CAR army of killing 6 of its soldiers in an attack on a border post in its territory, saying it was a "war crime". In December 2021, soldiers from the two countries also opened fire on both sides of the border.
There are hundreds of Russian paramilitaries (PMC mercenaries) present in CAR. Bangui still refers to these fighters as "allies".