Luxury Yacht Of Russian Oligarch Akhmedov Arrested In Hamburg
15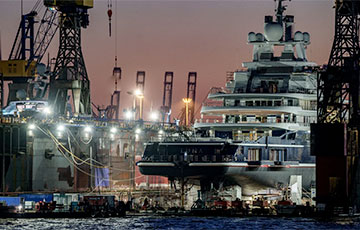 Previously, the vessel worth 400 billion euros belonged to billionaire Roman Abramovich.
In the port of Hamburg, the yacht Luna belongs to the Russian oligarch Farkhad Akhmedov. The cost of the vessel is estimated at 400 million euros.
It is reported by the Sueddeutsche Zeitung.
The German Federal Criminal Police Office has found out that Russian oligarch Farhad Akhmedov is the end beneficiary of the Liechtenstein trust that owns the luxury vessel. The pro-Kremlin billionaire has been on the EU sanctions list since early April. Farkhad Akhmedov earned state on the gas business. Forbes magazine recently estimated his personal fortune at $1.4 billion.
The cost of the yacht, it is currently prohibited from leaving the port until further notice, is estimated at about €400 million. Luna with nine decks has a huge swimming pool and even a small bathyscaphe. Russian billionaire Roman Abramovich previously owned the yacht.