Navy Man From Aurora Cruiser Suicided Publicly In Russia
8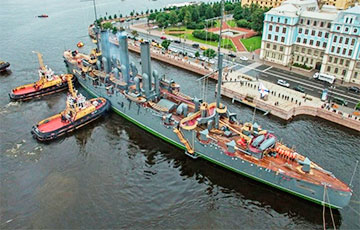 His mother refuses to believe in a sailor's suicide.
In St. Petersburg (the Russian Federation), a military man who served on the cruiser-museum Aurora committed suicide in front of witnesses: he tossed off a bridge into the Neva river. The Shot Telegram channel, the channel that published a video of the suicide, reported this.
It is known that on August 11, 19-year-old sailor Vyacheslav Demidenko rushed into the Neva from the Sampsonievsky bridge when he was walking with colleagues from the Kirov Military Medical Academy to the cruiser Aurora. --- He ran out of line, jumped into the river and drowned.
Two more soldiers rushed to save Demidenko, who also almost went to the bottom of the river.
The Investigative Committee of the Russian Federation has already opened a criminal case on the fact of incitement to suicide. Rescuers are still looking for the body of the drowned man.
Information about Demidenko's personal life
The Telegram channel reported that the deceased sailor lived in Kaliningrad. He served in military base No. 22885 as a guard squad shooter.
The Mediazona publication managed to find out details about the parents of the suicider.
The mother of the deceased is Natalya Demidenko. The woman works as a hairdresser in Kaliningrad. His father is a retired police officer.
Relatives of the deceased say that he joined the army after graduating from college at the Baltic University named after Immanuel Kant. There the guy received the specialty of a mechanical engineer. He did not dream of a military career and wanted to engage in motorcycles.
Demidenko left his girlfriend in Kaliningrad.
By the way, the mother does not believe in the version of her son's suicide. She says he was stress-resistant. In addition, the woman, allegedly from the words of eyewitnesses, said that Vyacheslav Demidenko panicked in the water and called for help.