International Tribunal To Try More Than 200 Belarusian Judges
67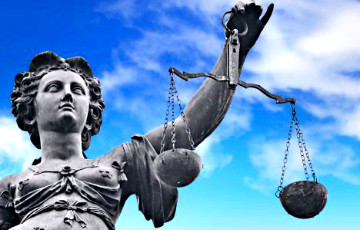 Lithuania is investigating crimes against humanity in Belarusian courts.
JusticeHub, the Lithuanian Centre for Law and Democracy, has prepared a report "The Right to a Fair Trial in Belarus After the 2020 Elections". The criminal investigation of crimes against humanity is being carried out concurrently, and to date there are about 200 Belarusian judges in a special database, who can be convicted on the basis of the principle of international universal jurisdiction. Belsat discussed with Dainius Žalimas, head of JusticeHub, what Belarusian judges can expect and how this will help their victims.
The Report will Help to Draw up New Sanctions Lists and Conduct Lustration
The report "The Right to a Fair Trial in Belarus After the 2020 Elections" of JusticeHub, the Lithuanian Centre for Law and Democracy, is the first detailed study of human rights violations in Belarusian courts. In preparing the report, the experts used information provided by former political prisoners, the Human Rights Centre "Viasna", as well as transcripts of audio recordings taken in courts, data from the "Etalon" information search system, and the official Constitutional Court of Belarus.
"This report registers that judges were actively involved in facilitating the implementation of an undemocratic regime aimed at a massive attack on the civilian population," say the report's authors.
JusticeHub experts have found the following violations of the Belarusian courts:
- Belarusian judges do not observe the principle of independence and impartiality;
- massive violations of basic human rights by the courts have been documented;
- lack of respect for procedural rights and the right to a fair trial;
- absence of real and effective possibilities to challenge decisions of the court of first instance;
- violation of the right to a public hearing;
- lack of equality of arms.
The drafters of the report say it can be used to deal with cases in international universal jurisdiction. Additionally, new sanction lists can be drawn up based on the data presented in the report, which will include judges involved in repressions against Belarusians. The study may also assist in future judicial reform in Belarus, as well as lustration, as it provides direct evidence of what a judge has done and why he or she can no longer hold such a position in the future.
How Can International Universal Jurisdiction Help Belarusians?
The head of JusticeHub, Dainius Žalimas, explains what international universal jurisdiction is, how it can help to restore justice to victims of the Belarusian regime and who can take advantage of it.
- Tell us, please, what is the essence of international universal jurisdiction and how this procedure can be used by Belarusians today?
- International universal jurisdiction is an opportunity, provided by the legislation of various countries, to submit applications and investigate criminal cases on particularly serious international crimes, including genocide, crimes against humanity and war crimes, without reference to the place and time of the crime, nationality of those responsible and victims. If we talk about Belarus, we are dealing here with crimes against humanity.
The principle of international universal jurisdiction is contained in the legislations of such countries as Lithuania, Poland, Germany, Belgium, the Netherlands, Hungary and so on.
In 2022, Lithuania filed in accordance with this principle a criminal case on the events in Belarus after the rigged election in 2020. The basis for the opening of the case was the statements of the victims of the regime who found asylum, as well as the relatives of the victims behind bars in Belarus.
Victims of the Belarusian regime or their relatives who are in Lithuania are provided with legal assistance by our organisation so that they can submit statements to the Lithuanian prosecutor's office. These applications are now included in that general criminal case which was initiated last year, but if the suspect is specified, some case may be separated, and we hope that there will be many such cases.
"There are More than 200 Judges in our Database and All of Them will One Day be Responsible for Prosecuting People."
- Why did you decide to analyze the cases of the courts in Belarus?
- Judges today are one of the main suspects in crimes against humanity in Belarus. Judges probably do not torture people directly, but in addition to torture, there are other crimes against humanity - persecution for political reasons, on the grounds of nationality, illegal deprivation of liberty, but by international standards, not the repressive laws of Lukashenka's system. Judges do exactly that when they hand down sentences for participating in rallies, all sorts of public activities, disseminating information in social networks, journalistic activities, and other manifestations of freedom of expression.
All such cases in Belarus go through the courts to create the appearance of legitimacy of repression. The responsibility of the judges for these cases is complicated by the very fact that as lawyers they are well aware of what they are doing - committing crimes, implementing Lukashenka's policy of persecution of Belarusian civil society.
- At what stage is the investigation of the judges' crimes now?
- At the stage of preliminary investigation. And I hope that it will spread to other European countries and will be conducted not only in Lithuania. At this moment we have data on more than 200 judges. And I think that one day they will all be held responsible for persecuting people. Some of them are already under various kinds of international or national sanctions, and the rest are candidates for sanctions that will prohibit them from coming freely to EU countries.
It is especially important for the future that all of them are known, so that when the moment of democratic changes comes in Belarus, lustration, apart from criminal responsibility, is applied to them. Such so-called judges can no longer be, must not be engaged in such activities in a democratic state.
"Maybe Belarusian Judges will be Tried by an International Tribunal"
- When the investigation is completed, how will the decision of the Lithuanian court, the decision with regard to these judges, look like?
- It's difficult to say now. And it should be noted here that although we know the names of the specific judges, given that we have started our work recently, there are no officially announced suspects yet. But if they are announced as suspects then an arrest warrant will be issued for them, it will be forwarded through Interpol authorities. They can get arrested in any country. But even if they are not arrested for now, it is possible to convict them in absentia in Lithuania. And in this case, if there are changes in Belarus, the materials can be transferred to the reformed bodies of justice of the new democratic Belarus, to be dealt with there.
Or another option - now it is being discussed that after all, a special international tribunal for crimes against humanity will be needed, and the Belarusian judges will be judged by that tribunal.
However, the most important thing is that all those judges who pass such sentences must know that their actions do not go unnoticed, that their names are known, and that one day they will face real responsibility and there will be no place for them in the future new Belarus until they serve their sentences.
Unfortunately, the process is slow, and so far there are many questions for the justice authorities, not only in Lithuania, but also in other countries - why are there still no suspects in the Belarusian cases they are investigating? Apart from Lithuania, there are several other states that have started such cases under international universal jurisdiction - Poland, the Czech Republic, Germany - but no suspects have been named anywhere so far.
"The Regime Feels There Will Be Accountability, So It's Closing Courts"
- How do you get information? Is there enough of it now?
- On the one hand, it is quite easy to collect evidence of judges' crimes, as there are specific documents, verdicts signed by these judges. We get this information from the Human Rights Centre "Viasna". In addition, there are other sources - some lawyers, whose license was revoked in Belarus, found shelter in Lithuania - they have their own data. We also have our sources - activists of the Belarusian civil society and the victims themselves.
- Will your list of 200 judges be supplemented? After all, the trials in Belarus are not over yet...
- Yes, we hope to replenish the list in the near future. But lately it has become much more difficult to get documentary evidence of the verdicts. Especially it concerns those criminal cases that are considered behind closed doors in violation of all international standards. We can only get the operative part of the verdict there, without motivation. And even the people who pass this on to someone are persecuted. This is why it is more difficult to collect materials to complete the list of judges now than it was when we first started. But this is probably also because the regime feels that such verdicts will lead to accountability and therefore closes courts and tries to make sure that there is as little evidence of such verdicts as possible.
"We Need to Figure Out Why the EU Principle of International Universal Jurisdiction Hasn't Brought About a Single Verdict"
- Is there a criminal case against Belarusian law enforcers as well?
- The criminal case we started is a general one. But its original purpose was to investigate torture in Belarus, and there are so called security officers, as they are responsible for torture. Since the investigation is still in progress, it's impossible to say now who exactly is on the list.
- Can the Belarusians complain to the prosecutor's office against Belarusian power structures and judges, not only in Lithuania, but in other countries of the European Union as well?
- Yes, they can. However, there are peculiarities in different countries, and it is not always a simple procedure. In Poland, for example, it is more complicated - at least, until recently, applications were accepted only from those who have a Pole's Card. For us, it is enough just to be in Lithuania. And although all the EU resolutions encourage the use of universal jurisdiction, I think that it should be the subject of a separate study why this procedure has not yet brought any results in the EU countries and there are still no suspects, although investigations are underway.